"No. 5" by Jackson Pollock – Number 5 Detailed Painting Analysis
If you think of Jackson Pollock, what comes to mind are probably large trails and tails of paint on even larger canvases on the floor. It is not your average type of art, but that is what made Pollock one of the leading proponents of Abstract Expressionism. This article will discuss his No. 5 painting from 1948.
Artist Abstract: Who Was Jackson Pollock?
Jackson Pollock was born in the city of Cody in Wyoming on January 28, 1912, but he grew up in Arizona and California. He died on August 11, 1956, due to an automobile accident. He was best known for his artistic contributions towards Abstract Expressionism and pioneering Action painting that consisted of his "drip technique".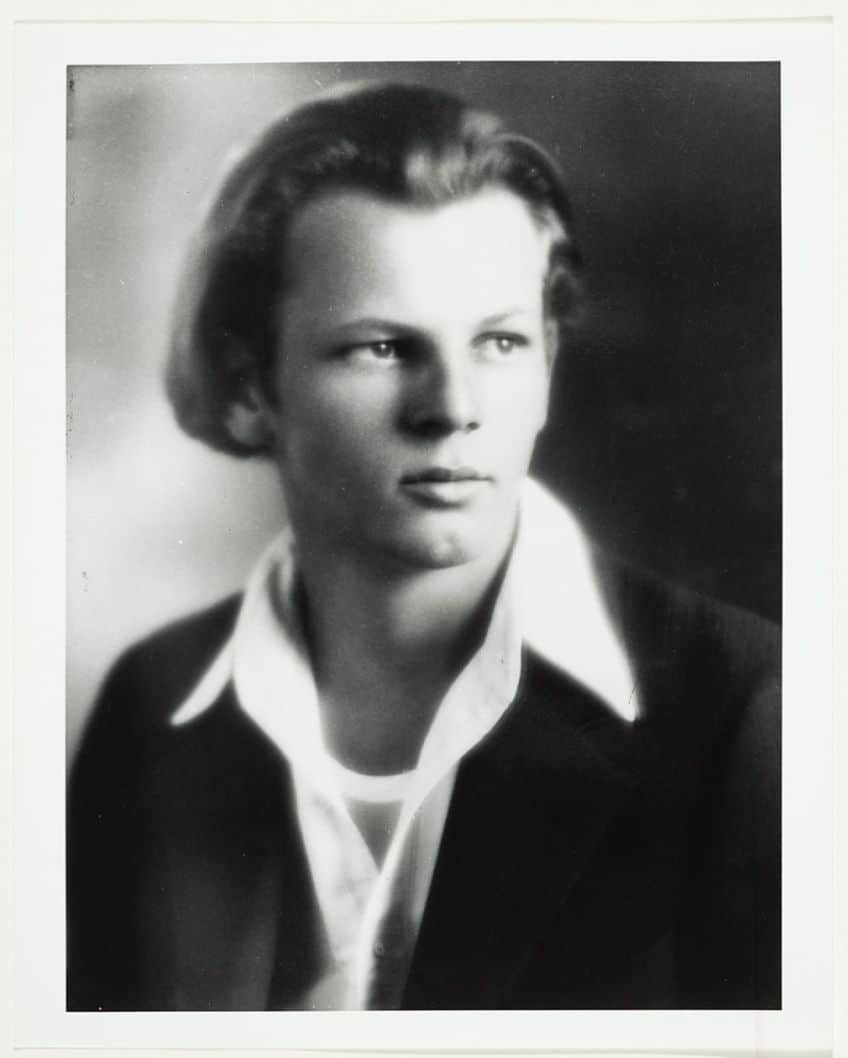 Portrait of Jackson Pollock (1928) by Unknown Photographer; Smithsonian Institution, Public domain, via Wikimedia Commons
His artistic education included studying under Thomas Hart Benton at the Art Students League in New York City. His artistic style shifted from mural paintings to abstract (gestural), some examples include Going West (1934 – 1935), Full Fathom Five (1947), and Autumn Rhythm: Number 30 (1950).
No. 5 (1948) by Jackson Pollock in Context
| | |
| --- | --- |
| Artist | Jackson Pollock (1912 – 1956) |
| Date Painted | 1948 |
| Medium | Oil on fiberboard panel |
| Genre | Abstract art |
| Period / Movement | Abstract Expressionism |
| Dimensions (m) | 2.4 x 1.2 |
| Series / Versions | N/A |
| Where Is It Housed? | Private Collection, New York, United States |
| What It Is Worth | Sold for $140 million on May 22, 2006 |
This article will be divided into two parts, starting with a brief contextual overview of Jackson Pollock's No. 5 painting from 1948, which is also sometimes referred to as Number 5, and then a formal analysis that will discuss the visual aspects like the subject matter and how the art elements and principles are portrayed.
Contextual Analysis: A Brief Socio-Historical Overview
Jackson Pollock painted No. 5 in 1948, which was at the onset of his new approach to artmaking called his "Drip" paintings, which consisted of dripping paint onto a canvas. Pollock often utilized various tools like sticks and different types of paint, for example, synthetic resin-based, otherwise described as "household" paints. Jackson Pollock did some work on No. 5 after its purchase in 1949 for $1,500 by Alfonso A. Ossorio.
Reportedly, it was damaged during transportation and Pollock worked over it, but Ossorio was satisfied with the changes.
Why Number 5?
You might be wondering why Jackson Pollock titled his painting a number, and not a standard name. Reportedly, according to Lee Krasner, numbers were "neutral" and Pollock moved away from any ideas that may form from giving the painting a name. He sought to present the painting as it was and for the viewer to see it in its originality, without any meanings attached to it that would create possible alternative meanings.
Formal Analysis: A Brief Compositional Overview
The formal analysis will start with a visual description of No. 5 by Jackson Pollock, followed by a description of some of the artistic details according to the art elements like color, texture, line, shape, form, and space, and how these are composed around the large panel.
Subject Matter: Visual Description
No. 5 by Jackson Pollock is a large artwork, measuring 2.4 by 1.2 meters. It depicts the artist's self-created cosmos of dripped swirls and lines of paint. Another commonly referred to comparison has been to it appearing like a "bird's nest". The entirety of the No.5 painting is filled with yellow, red, brown, gray, white, and black paint dripped and dribbled in various directions and layers leading our (the viewers) gaze from point to point and loop to loop.
There is constant motion and rhythm in No.5 and the more you look you will notice how some lines and colors stand out more than others, circling and redirecting you to a whole other spot on the panel, almost like being on a rollercoaster of paint.
Color
If you look at the colors again, Jackson Pollock utilized neutrals like black, white, brown, and gray with several other hues like yellow and red. The type of paint he utilized was reportedly synthetic resin paint.
Line
There is an assortment of lines in No. 5 by Jackson Pollock, some examples include long, short, curled, curved, semi-straight, wavy, and more. Most of the lines created in the composition are formed from the artist's own physical movements, for example, moving his hand in one direction while pouring the paint would have informed the type of line created.
The movement of lines throughout the composition creates a rhythmic flow and dynamism.
Texture
The texture of No.5 by Jackson Pollock directly relates to the tactility of the paint on the panel. The paint appears thick and thin throughout the composition.
Space
If you look at the space in No. 5 by Jackson Pollock, it is dynamic and as fluid as his painting. The physical, three-dimensional, space Pollock occupied around the panel directly informed how the compositional space was created.
This was through his own body movements and gestures, from walking around the panel to splashing or dripping paint while holding the paintbrush, which is why this was termed "Action painting".
Shape and Form
The No. 5 composition appears fluid and dynamic, there are no figurative aspects to it and it exists as an abstract, non-figurative, composition. The physical structure of the panel provides a rectangular shape, which in some way holds the diverse arrangement of lines and paint.
Jackson Pollock Was a Walking Verb
Jackson Pollock did not quite pioneer Action painting, in fact, he was reportedly inspired by Janet Sobel, who started the specific drip-painting style. However, his gestural approach became widely admired and associated with Abstract Expressionism, but also to him as an artist – you could say he was a walking verb, creating action from all sides and corners of his canvas.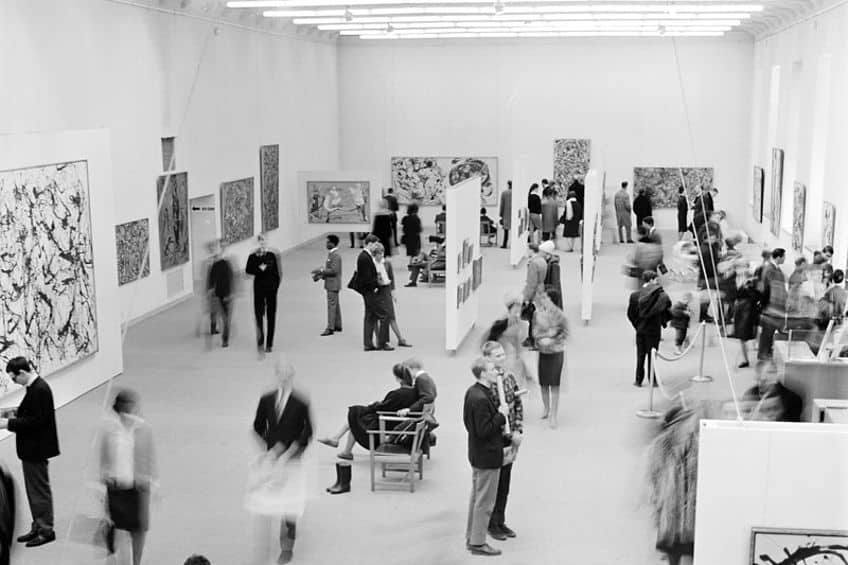 Exhibition with Jackson Pollock's Paintings at Moderna Museet (1963); Lindgren, Herbert (1919–1987), Stockholms stadsmuseum, CC BY 4.0, via Wikimedia Commons
This article discussed Jackson Pollock's "No. 5" painting from 1948 and how it was one of the most important Abstract Expressionist paintings, but also one of Pollock's paintings that embodied his new approaches to artmaking, specifically his Action paintings. It also discussed Pollock's technique according to the art elements, and how some of the principles of design come into play.
Frequently Asked Questions
Who Made the Painting Called No. 5?
The Abstract Expressionist artist Jackson Pollock created the No. 5 painting in 1948 (also titled Number 5). It is composed of oil paints, specifically synthetic resin paints, on a fiberboard panel, which measures 2.4 x 1.2 meters.
Why Did Jackson Pollock Title His Painting No. 5?
Jackson Pollock wanted to find new ways of representation in art that literally moved beyond any figuration and into the abstract realms. Furthermore, he placed a canvas on the floor instead of its usual, and so-called traditional place, which was on an easel.
Where Is Jackson Pollock's No. 5 Painting From 1948?
No. 5 by Jackson Pollock is housed in a private collection, reportedly in New York in the United States. It was initially bought by Alfonso A. Ossorio in 1949 for $1, 500.
Alicia du Plessis is a multidisciplinary writer. She completed her Bachelor of Arts degree, majoring in Art History and Classical Civilization, as well as two Honors, namely, in Art History and Education and Development, at the University of KwaZulu-Natal, South Africa. For her main Honors project in Art History, she explored perceptions of the San Bushmen's identity and the concept of the "Other". She has also looked at the use of photography in art and how it has been used to portray people's lives.
Alicia's other areas of interest in Art History include the process of writing about Art History and how to analyze paintings. Some of her favorite art movements include Impressionism and German Expressionism. She is yet to complete her Masters in Art History (she would like to do this abroad in Europe) having given it some time to first develop more professional experience with the interest to one day lecture it too.
Alicia has been working for artincontext.com since 2021 as an author and art history expert. She has specialized in painting analysis and is covering most of our painting analysis.
Learn more about Alicia du Plessis and the Art in Context Team.
Cite this Article