Lipstick Building in New York – The Iconic Building's History
Who owns the Lipstick Building in New York City, and why is it called the Lipstick Building? The SL Green Realty Corp. took ownership of the building in 2021, and it is named after the fact that it looks like a lipstick tube. But, where is the Lipstick Building located and what is it used for? We shall answer these questions, as well as take a look at the Lipstick Building's architecture and other interesting facts below!
An Exploration of the Lipstick Building in New York
| | |
| --- | --- |
| Building Name | Lipstick Building |
| Architect | John Burgee (1933 – Present) |
| Date Completed | 1986 |
| Function | Office |
| Height (meters) | 138 |
| Location | 885 Third Avenue, Manhattan, New York City, United States |
With a distinctive and avant-garde design by John Burgee Architects, the Lipstick Building in New York is an iconic part of the city's skyline. The tower, which was constructed in 1986, has a shape that resembles a lipstick tube. The unusual design of the 34-floor building's architecture was created to comply with the zoning regulations in effect at the time. The Lipstick Building is home to a number of notable office-using occupants, such as Stone Hill Capital Management, Herald Square Properties, Toll Brothers, and Latham & Watkins. The building's historic position and prime location draw tenants searching for high-quality Midtown Manhattan office space from the legal and financial services sectors.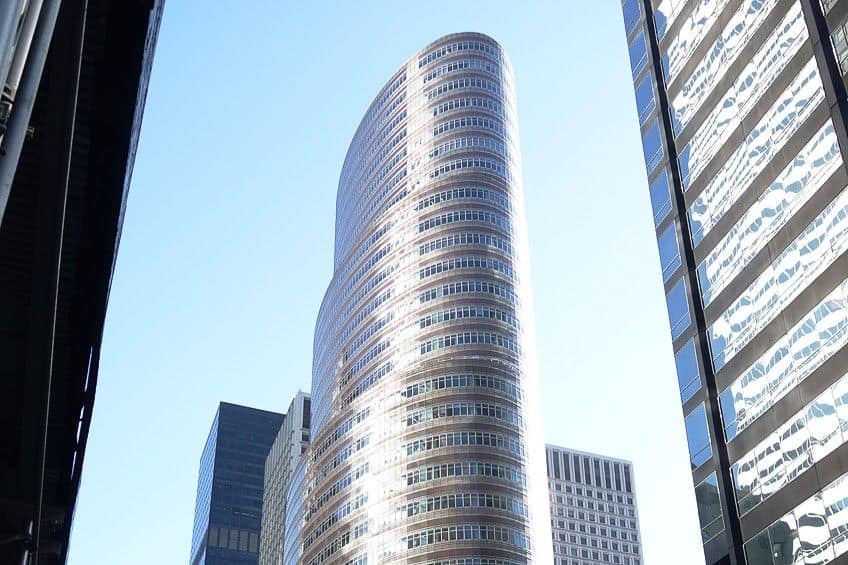 The Lipstick Building as seen from the South side in New York; Tdorante10, CC BY-SA 4.0, via Wikimedia Commons
The Lipstick Building's Architecture
Developer Gerald D. Hines commissioned the creation of the Lipstick Building. The building's creation also incorporated the work of mechanical engineers Cosentini Associates, structural engineers Irwin Cantor, lighting consultants Claude Engle, and landscape architects Zion and Breen Associates. Despite going by the name Fifty-third at Third, the building's distinctive massing and the hue of its front gave it the nickname "Lipstick Building", It is one of several structures in New York City that have nicknames derived from how they look.
As of 2020, the building and the underlying property have distinct owners, while the land itself is split into two ownership pieces due to a legal technicality.
Facade and Form
As a result of the New York City Department of City Planning's consideration of rezoning Midtown Manhattan at the time the building was being developed, it has a massing that is almost elliptical. The massing stood in stark contrast to previous structures, which were mainly made of rectangular shapes. The building's circular design allows for more light and air to enter while also enabling people on 53rd and 54th Street to avoid the corners. Johnson said that the form was "suitable for quirky Third Avenue yet inappropriate for the more solemn Park Avenue", whereas Burgee claimed that the design provided "a distinctive landmark along the monotony of Third Avenue".
Munson-Williams-Proctor Arts Institute in Utica, New York (1960), designed by Philip Johnson; Kenneth C. Zirkel, CC BY-SA 4.0, via Wikimedia Commons
Critics likened the massing of the skyscraper to a cruise ship and a lipstick tube. The structure is split into three pieces vertically. The Lipstick Building in New York City has setbacks above the 19th as well as 27th levels to comply with zoning restrictions, over which the circular massing continues. Although the structure seems elliptical, the base and both setback components are polygonal, as the exterior walls are made up of facets less than a meter wide. The building's facade is an unbroken wall of stainless steel and Imperial red granite. Gray frames enclose the ribbon windows. Between the floors, there are red spandrel panels surrounded by stainless steel strips.
Features
Because of the Lipstick Building's elliptical form, all of its interior and exterior walls have curves, which leads to a lack of straight lines and corners. This means there are no corner offices, which are commonly considered a symbol of status or rank in many American organizations. From another perspective, every office in the Lipstick Building may be considered a corner office. The building's telescoping nature permits more natural light to reach the streets surrounding it than a standard square skyscraper. New York City construction standards governing day illumination and vistas affected this structure.
The foyer of the building featured checkerboard floor tiles in addition to a glass mosaic ceiling.
In 1992, a portion of the lobby was turned into a café. 885 Third Avenue featured four elevators with marble veneer when it first opened. Each elevator cab was decorated with a distinct color of marble (brown, green, red, or rose). The building's elevators are located on the eastern flank, enabling the remainder of the structure to rise with setbacks. The superstructure of 885 Third Avenue is built of reinforced concrete. It has a tube support system as well as an inner core that tapers at higher elevations.
Detail of the top of the Lipstick building; East Midtown, CC BY-SA 2.0, via Wikimedia Commons
Winds from the northern direction would produce an abnormally high amount of eastward pressure due to the building's distinctive form and placement on the eastern side of Third Avenue. As a result of this, structural engineer Irwin Cantor chose to include a central core that absorbs the majority of the structural stresses. The emergency staircases and elevators are located in the center core. Due to the building's unusual design, the mechanical equipment and office space had to be altered to meet the circular form of each story as well.
The History of the Lipstick Building in New York
Gerald Hines purchased the land from Citicorp for $28 million in January 1981. This pricing did not include the expense of acquiring a leasehold in the center of the block. It received mixed reviews in its early years, but it was profitable. Tishman Speyer signed an agreement to buy the building in January 2004. New York City's landlords were already buying up properties in anticipation of increased rental prices at the time. In July 2008, the Lipstick Building was refinanced with a loan from Goldman Sachs by Metropolitan. At that point, the structure was 97 percent filled, with one tenant, Latham & Watkins, using almost two-thirds of the space.
While the Lipstick Building in New York City has housed several enterprises since its inception, maybe none was more well-known than Bernard Madoff, who rented the 17th through 19th floors.
Madoff ran a criminal Ponzi scheme from this skyscraper, defrauding investors of billions of dollars. Coincidentally, the Lipstick Building's owners declared bankruptcy shortly after Madoff was convicted and imprisoned in 2008. The building was eventually acquired by the Royal Bank of Canada, which established the New Lipstick LLC to operate it. In 2010, a café debuted in the building's foyer; it was substituted in 2014 with chef Charlie Palmer's Crimson & Rye restaurant.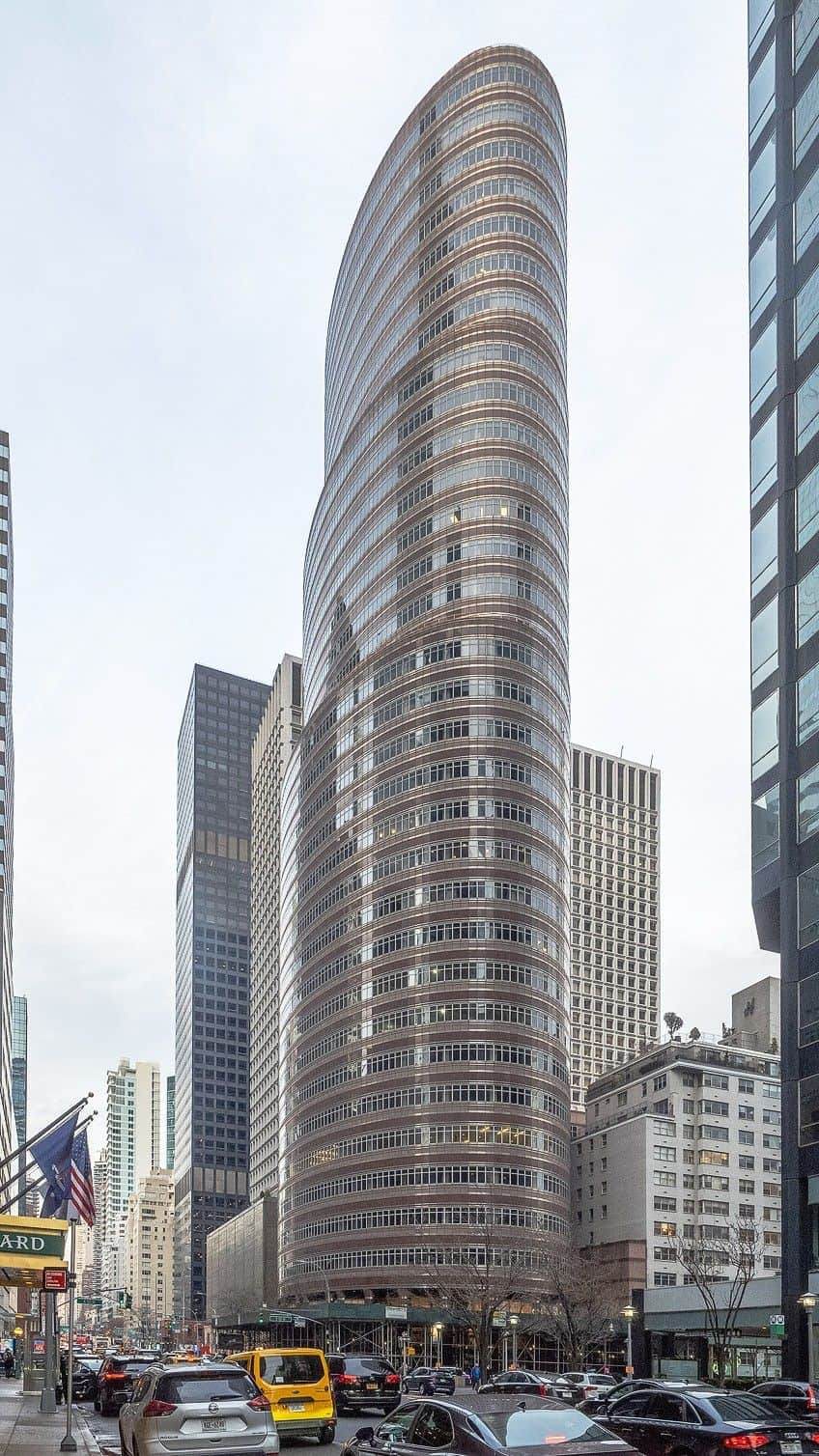 The Lipstick Building located in New York City; ajay_suresh, CC BY 2.0, via Wikimedia Commons
IRSA and Marciano recruited the architectural firm Gensler to revamp portions of the office space in order to draw in prospective tenants. The space was then rented out as prebuilt offices of a few thousand square feet apiece by the owners. The Lipstick Building in New York's managing agent, Herald Square Properties, indicated in 2014 that there was interest for additional stories inside the building, but by the following year, the structure was 97 percent leased out. IRSA were unable to make payments on the ground-lease debt, which was referred to a special servicer in June 2020, because of the worldwide COVID-19 epidemic in 2020.
The Lipstick Building in New York features distinctive post-modernist architecture that sets it apart from its neighboring square and basic structures, such as the NYC Post Office. This construction has an oval form and a telescoping look, with top levels having a smaller footprint than those at the building's base. The building's stepped-in form, paired with its red granite facade, gives it the impression of an extended tube of lipstick. Because of its location, the Lipstick Building is also known as 53rd at Third. Despite initially being received with rather mixed reception, the office spaces would prove to be exceptionally profitable, with the majority of the building being occupied for long periods of time.
Frequently Asked Questions
Why Is It Called the Lipstick Building?
Quite a common trend in New York City is to give the various skyscrapers nicknames based on how they look. The Lipstick Building in New York is definitely no exception to this rule. It is called the Lipstick Building because of its tapering design and the fact that it looks like a lipstick tube that has been extended and is ready for application. Another building named for the way it looks is the Flatiron Building.
Who Owns the Lipstick Building in New York City?
As with many buildings in New York, the Lipstick Building has passed through several hands of ownership throughout the years. Tishman Speyer Properties, a real estate development and management firm, developed the Lipstick Building in New York City. It was completed in 1986 and was designed by John Burgee Architects. The Lipstick Building in New York was purchased by Brookfield Property Group, a division of Brookfield Asset Management, in 2013. Brookfield Asset Management is a global alternative asset management firm that focuses on infrastructure, real estate, renewable energy, and private equity assets. SL Green Realty Corp. purchased the Lipstick Building in 2021 and continues to own and operate it today.
Where Is the Lipstick Building Located?
The Lipstick Building in New York is located at 885 Third Avenue, Manhattan, New York, in the United States. Hence, it is likewise referred to as 53rd at Third. However, it is most known due to its resemblance to a lipstick tube.
Justin van Huyssteen is a freelance writer, novelist, and academic originally from Cape Town, South Africa. At present, he has a bachelor's degree in English and literary theory and an honor's degree in literary theory. He is currently working towards his master's degree in literary theory with a focus on animal studies, critical theory, and semiotics within literature. As a novelist and freelancer, he often writes under the pen name L.C. Lupus.
Justin's preferred literary movements include modern and postmodern literature with literary fiction and genre fiction like sci-fi, post-apocalyptic, and horror being of particular interest. His academia extends to his interest in prose and narratology. He enjoys analyzing a variety of mediums through a literary lens, such as graphic novels, film, and video games.
Justin is working for artincontext.org as an author and content writer since 2022. He is responsible for all blog posts about architecture, literature and poetry.
Learn more about Justin van Huyssteen and the Art in Context Team.
Cite this Article