Art is, at its very core, an expression of creativity and imagination. These are things intrinsically tied to human beings, the success and quality of which are more so dependent on the artist's skill and talent than the mediums at their disposal. A great worker, of course, never blames their tools. If you are interested in learning more about how to paint cardboard, perhaps the most inexpensive and easily acquirable medium, then you have come to the right place! Today, we are going to teach you how to properly paint cardboard. We are also going to cover the best paints for cardboard mediums as well as some fun ideas.
Why Cardboard?
To most people, cardboard is a simple wood-based material used to create cheap packaging for the purpose of item storage and the transportation of goods. While this may be true, it nevertheless only scratches the surface in terms of what can be achieved with this incredibly versatile material. Cardboard can be repurposed, or "upcycled", in several ways to serve an infinite number of purposes. This is especially true in the world of arts and crafts where cardboard is often used as a building and decorating material.
Cardboard makes for a great medium for paint as well, hence the title of this article.
The Benefits of Painting on Cardboard
Painting on cardboard offers a variety of benefits, the most considerable of which is its incomparable affordability. In most arts and crafts stores, cuttings of cardboard will cost only a fraction of the price of traditional painting canvases of the same size. Even then you do not necessarily even have to pay for cardboard either. One of the easiest ways of acquiring free cardboard is by visiting the loading area of your local shopping mall or grocery store, as the staff are, more often than not, happy to let you walk away with some cardboard packaging without you having to pay a dime.
Cardboard's affordability allows artists the freedom to experiment without the worry of wasting money on surface mediums.
Even if you mess up a painting on cardboard, it costs next to nothing to start again on a fresh sheet. Compared to canvases and paper designed for painting, cardboard has both mediums beat in terms of cost-effectiveness. As a matter of fact, you probably have some cardboard lying around the house right now. Cardboard is also super lightweight, making it easier to work with and transport than traditional canvases. Furthermore, cardboard is structurally rigid and thus does not share the same risks of creasing and folding as paper.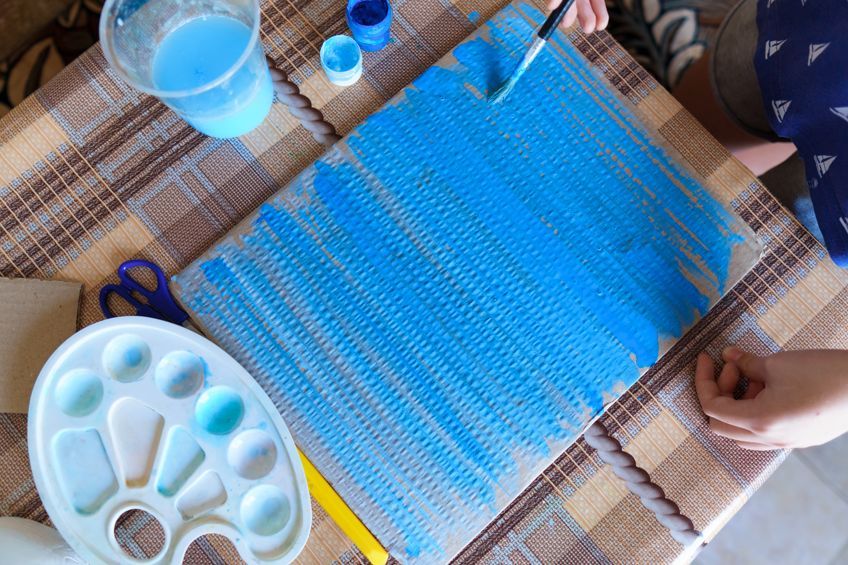 As we have just discussed, you can repurpose old pieces of cardboard for your artistic pursuits. If you are recycling old cardboard for painting, however, be sure to use pieces that still retain their structural rigidity and have a clean surface. Cardboard, like paper, can also be easily folded and cut into structures and shapes, which makes it excellent for not just painting but also sculpting.
The Best Cardboard for Painting
Working with cardboard as your medium for painting is affordable and simple enough. That being said, there are a few tips and tricks that we would like to advise you when it comes to the kind of cardboard you choose to paint on. If you want the best results, we suggest that you use corrugated cardboard as your material, whether it be double or tripled-walled. These are the strongest types of cardboard suitable for painting projects. You are still more than welcome to make use of any cardboard lying around the house provided that it has not been crushed, dented, or wet.
If you are a parent whose children love painting, recycling cardboard in your household can be a cheap way of providing them with a constant supply of fresh painting surfaces.
The best thing about using recycled cardboard is that it can be recycled yet again, making this an incredibly sustainable medium for art projects of any kind. Just be sure not to use cardboard that has been laminated with a waxy seal for packaging and protection purposes. These sorts of surfaces are intentionally designed to reduce the capacity for liquids to adhere to them and are thus unsuitable for painting. You want to make sure to get your hands on sheets of bare cardboard for the most optimal painting experience.
Paints Best-Suited for Cardboard Art Projects
Such as is the case for paper, cardboard is produced from a wood-based material known as pulp. Cardboard is specifically produced using a pulp product called kraft paper. The issue with this is that the material can be quite absorbent, which can make painting cardboard a bit tricky, especially if you do not know the best methods of doing so. Using certain types of paints, especially those that are water-based (such as watercolors), can cause the surface of your cardboard to develop a wrinkled texture or even warp in areas such as the corners.
Ideally, you want to use paints that contain very little moisture and water. Here, we will be detailing and discussing the best paints for cardboard canvases.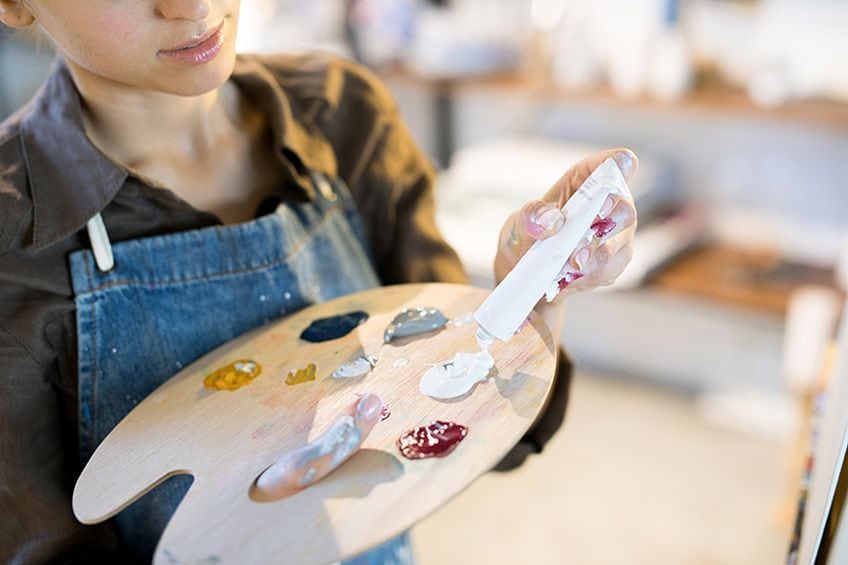 Acrylic Paint
Many arts and crafts enthusiasts will attest to the argument that acrylics are the best option for painting on cardboard. Not only are they both easy on the pocket and easy to work with, but acrylic paints are also among the less toxic options for projects involving small children. Acrylics are even cheaper when bought in larger paint carton sizes. The versatility of acrylics is also unparalleled. They work great on almost any surface, including canvases, metal, wood, clay, and – of course – cardboard.
Heck, acrylic paints can even be applied before clay projects enter the kiln and retain their hues.
Acrylic paints are made of a polymer emulsion mixed with pigments. Applying acrylic paint to the surface of cardboard is effective given its relatively low moisture levels, which makes warping and wrinkling of the cardboard less likely. The thick viscosity of acrylic paint also makes it easy to apply the surface of cardboard without soaking into the pulp. Better yet, acrylic paint becomes water-resistant after drying, which gives your work of art a bit of insulation and protection from the elements.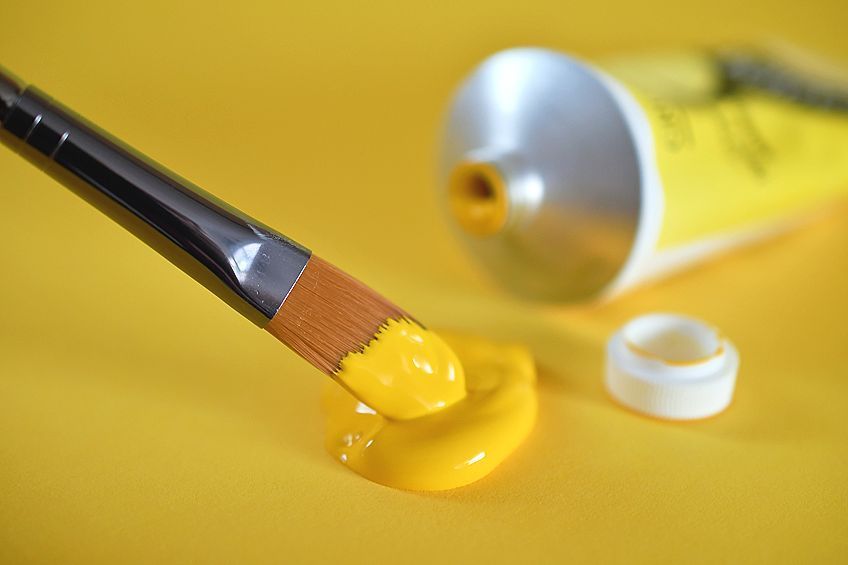 The best way to apply acrylic to cardboard is by using thin layers of paint. Try your best to avoid applying thick layers so as to prevent warping the surface of your cardboard. If you need to add further layers, wait for the previous layer to dry first. Another great thing about acrylic paint is that it dries fast, which allows you to add more layers in a day. You will want to avoid applying acrylic paint directly onto the surface of your cardboard. This could create concentrations of moisture that are high enough to cause damp patches to form.
For similar reasons, you should make sure that your paintbrush is not too soaked before applying it to the cardboard.
Oil Paint
Much like acrylic paints, the thick viscosity of oil paints makes them another dependable option for cardboard art projects. The key benefit of using oil paints as opposed to acrylics is the fact that the color vibrancy of oil paints tends to be much better. This does, however, come at the expense of increased costs. Oil paints are typically much pricier than their acrylic counterparts. More so, unlike acrylic paints, oil paints contain harmful chemicals that require users to practice additional caution when dealing with them. This makes oil paints a sub-optimal choice for cardboard painting with younger children.
Worse yet, oil paints are notoriously difficult to clean up. Unlike acrylic, which is easy to clean up using nothing but water due to its solubility, oil paint stains must be removed using thinners such as turpentine or spirits. If you do not have these cleaning products on hand, this could drive up the cost of painting cardboard using oil paints even further.
Just as you would with acrylic paints, you should apply oil paint in thin layers to prevent wrinkling and warping of your surface. You are also advised to prime the surface of your cardboard before you begin applying oil paints. Additional layers of oil paints also need to be applied after the prior layer has dried just as with acrylic paints. However, oil paints have a much longer drying time. While you could speed this process up using fans and heat, cardboard art projects involving oil paints do tend to take longer.
Spray Paint
Do you want to spray paint cardboard box art? The good news is that this actually works pretty well, especially if you have added primer to your cardboard's surface beforehand. If you want to color large swathes of surface area quickly and easily, spray paint could be the perfect choice for painting cardboard. Taking fewer than 20 minutes for layers to dry, spray paint smokes the competition in terms of drying time and overall turnaround time.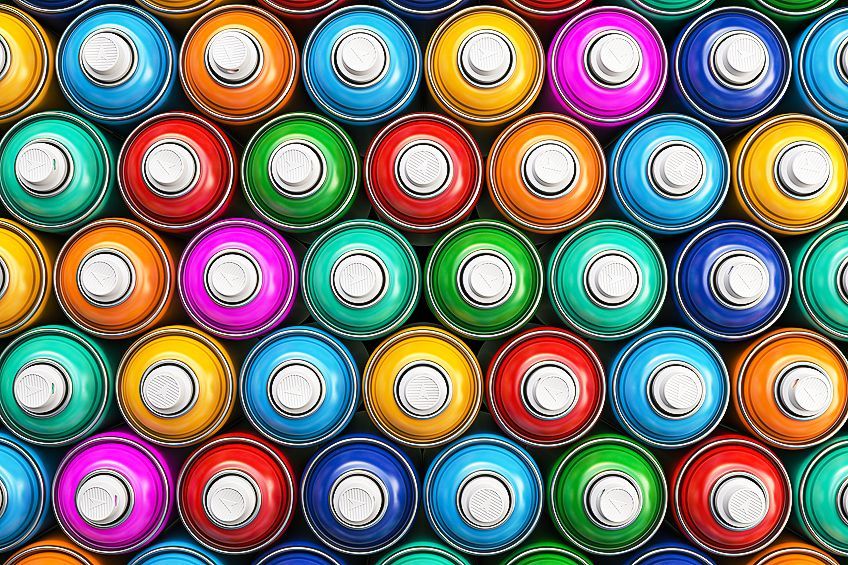 One big issue with spray paint, though, is that it poses more health risks than the prior two options. Since spray paint is applied straight from an aerosol can, paint particles will inevitably disperse and diffuse across a workspace. These spray paint particles contain harmful, toxic chemicals and are small enough to enter the respiratory system, making spray paint an unsafe option for spray paint cardboard box projects involving young children. Regardless, working with spray paint necessitates the use of personal protective gear such as eye-protection goggles and a respirator or air filtering mask. You are also encouraged to wear protective gloves and to place newspaper beneath your cardboard to prevent paint from getting onto to surface below.
You can prevent the warping of the cardboard's surface if you apply the spray paint in swift, light coats. Do not worry about covering the entire surface with a single spray.
Rather, you should cover a spot using several thin sprays. We suggest that you practice your stroke patterns on another sheet of cardboard before starting your painting. When applying spray paint to cardboard, ensure that the nozzle is roughly 10 inches away from the surface of your canvas. The lighter and quicker your coatings, the better as this will decrease the likelihood of moisture accumulating and causing the surface to warp. The pressure of the paint being released from the can has the potential to damage the surface of the cardboard, so you are advised to spray paint your cardboard while it lays horizontally on a solid and flat surface.
The best location for spray painting cardboard is outside where there is ample air circulation. Working in the open air will decrease the risk of toxic paint chemicals reaching your respiratory system. There are several kinds of finishes that spray paint can be bought in that offer you, the artist, a wide degree of creative freedom.
Priming Cardboard for Painting
Throughout the course of this article, we have discussed priming cardboard before painting. While this does afford several benefits, whether or not you need to prime your cardboard painting completely depends on the scale of the project and what you are trying to achieve. Cardboard art projects for kids, for example, should not necessitate the use of primer on the cardboard beforehand. In such cases, it may even be a waste of time.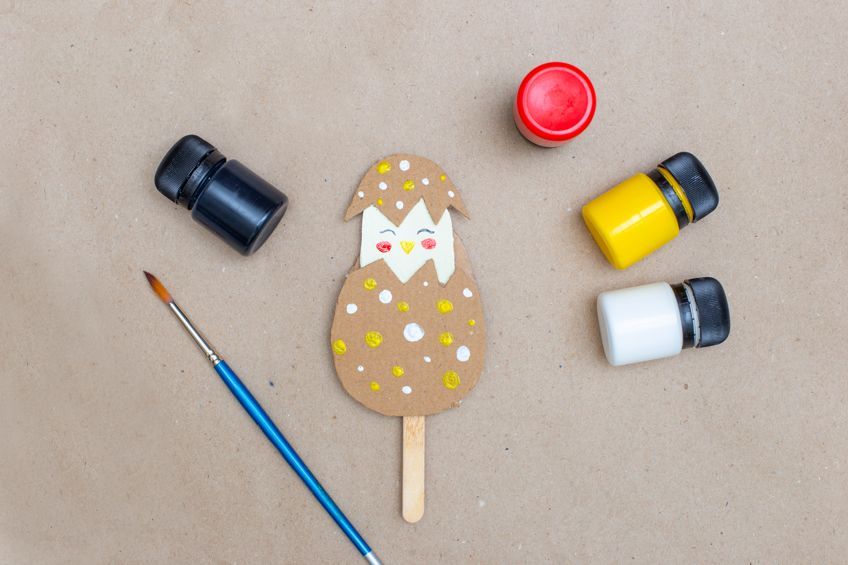 But when it comes to more serious art projects, priming your cardboard before painting may afford a number of benefits, the foremost of which being that it protects the surface of your canvas from moisture damage that may be caused by the paint. It also assists paint in adhering to the surface of the cardboard. The colors of your paint will remain true as well since it cannot soak into the cardboard, which would otherwise cause the colors to fade. This also demands fewer coats of paint, which can make up for the cost of the primer. We recommend you use white acrylic gesso for priming your cardboard.
By applying a coat of primer to your cardboard before painting it, you not only protect the surface from moisture but also improve the opacity of your paints once they are applied on top.
So, you not only save on paint, but you also nevertheless end up with more vibrant colors. We suggest that you use plain white gesso for all your cardboard priming needs as it is both affordable and widely available in both art stores and hardware stores. Acrylic gesso also comes in a wide variety of colors if you are looking for something specific. There are also hundreds of homemade gesso recipes you could find online should you feel adventurous enough to create your own primer.
Best Paint for Cardboard: Our Product Selections
By now you should have an idea of what sort of paint is best suited for your painted cardboard project. Your best options are either acrylic paints, oil paints, or spray paints. Of course, you should pick the paint that best suits your budget, your preferences, and the task at hand. The key things to remember about each type of paint are as follows:
Acrylics are less toxic, more affordable, and take a moderate time to dry. They do, however, have a tendency to lose color vibrancy as they dry.
Oil paints offer the best colors and finishes but they do contain toxic chemicals, which make them unsuitable for kids. An oil paint carton also costs a lot more and spills and messes require additional chemicals to be cleaned from hands and surfaces. They also take the longest to dry.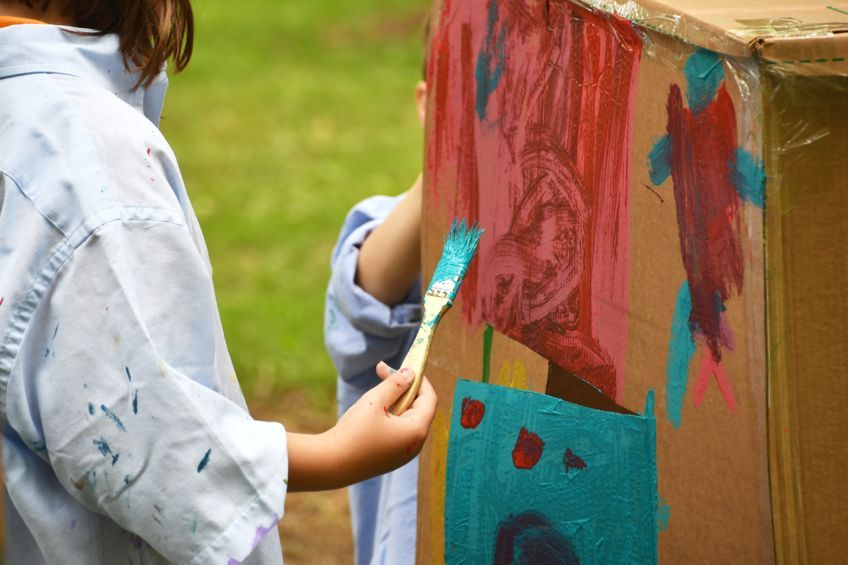 Spray paints are the easiest to use but pose the highest health risk. Spray paint dries the fastest, which greatly expedites the work process, but you are required to use personal protective equipment.
Scrutinize the pros and cons of each paint option until you decide which one you think would work best for you. At the end of the day, the best paint for cardboard art is a matter of subjective opinion. That being said, we have compiled what we believe to be the best acrylic, oil, and spray paints for cardboard art projects.
Best Acrylic Paint for Cardboard: MONT MARTE Acrylic Paint Set
In most cases, acrylic will be the best paint for cardboard. If you do not have any acrylic paint on hand, our top production suggestion would be that of the Mont Marte Acrylic Paint Set. This all-encompassing acrylic set comes with a selection of no fewer than 24 unique, creamy colors, each of which comes in its own 35 ml dispensing tubes. This affordable and quick-drying paint is not only great for painted cardboard projects, but it also works well on paper, leather, clay, plaster, and plastic surfaces. This means that you will be able to use this assortment of paints for a great many other kinds of art projects in the future.
The creamy texture provides great coverage for all surfaces
Dries quickly so you can easily layer colors without muddying
Contains 24 different colors, including all of your basic shades
View on Amazon
PROS
Great return on investment
Wide variety of vibrant color options
Adheres well to a variety of common surfaces
Quick drying times
Provides good coverage
No muddy colors
Smooth, creamy texture
CONS
Tricky to work with due to low viscosity
Thick coats may cause the cardboard surface to warp
Best Oil Paint for Cardboard: WINSOR & NEWTON Oil Paint Starter Set
If you are new to oil paints, the Winsor & Newton Oil Paint Starter Set will equip you with a collection of ten 37 ml tubes of high-quality oil paints. The pigment loads of these oil paints are unrivaled by any of the other options on this list. Do not let the name fool you, though, because this set of oil paints offers more than enough in terms of variety and quality for experienced artists as well. The set is on the pricier side of things but you are paying for quality paints – the Winsor & Newton name carries high esteem for a reason.
High-quality student-grade oil paints at an affordable price
A high level of pigmentation creates fantastic coverage
The set includes 10 tubes of your primary colors
View on Amazon
PROS
High quality, even with costs considered
Beautiful tints
Better coverage than acrylics
Higher pigmentation than acrylics
CONS
Fewer paint options
Can be too costly for some
Toxic – harmful to kids
Best Spray Paint for Cardboard: KRYLON COLORmaxx Spray Paint
Krylon makes some excellent spray paints and even sells primers specifically for use on surfaces before they are spray painted. The Colormaxx range of Krylon spray paints work exceptionally well on cardboard and take fewer than 20 minutes to dry. The trigger/nozzle is ergonomically designed to be larger than standard spray cans. This makes it easier to control the angle and pressure of your spray as you are applying the paint. There is a massive variety of colors in this range for you to work with, many of which offer different sorts of finishes.
A combination of primer and paint with premium coverage
Suitable for all indoor and outdoor surfaces
Available in a range of different colors to suit your needs
View on Amazon
PROS
Good coverage
Exceptionally durable
Works on most materials
Primer comes included
Fantastic color
Ergonomically designed spray tip
Fast dry time
CONS
Difficult to clean
High degree of health risks and requires equipment
How to Paint Cardboard
We can now get to explaining how to paint cardboard. Provided that you follow the simple instructions that we are about to outline for you, you should not run into any trouble with your next painted cardboard project.
Getting Your Carboard Painting Surface Ready
First of all, make sure that you have got a viable sheet of cardboard to work with. Refer to our earlier instructions on what sort of cardboard works best for painting projects if you need a quick reminder. Make sure that your sheet of cardboard is also clean and free from dust, hair, or other dirt particles. You should place a cloth, old towels, rags, or newspapers on the surface of your workspace and place the cardboard on top.
This should make the cleaning-up process a little easier.
Priming Your Cardboard's Surface
If you want to know how to paint cardboard in the most effective way, it starts with priming. If you prime your cardboard's surface before painting it, you will protect the cardboard from absorbing too much moisture from the paint. It also makes the surface of your cardboard easier for the paint to adhere to.
This will not only make the painting process much easier but it is also a crucial step in preserving the quality of your painting for as long as possible.
But cardboard is a sensitive material that may not pair well with some primers. Your safest bet would be to use a gesso or latex primer. The basic composition of your average primer includes a binder, white chalk, and pigments. You do have the option of mixing paint into your primer as well.
The simplest way to properly apply primer to your cardboard is using either a foam brush or a sponge to spread alternation layers of horizontal and vertical strokes. Give your layers enough time to dry completely before applying the next. Applying the primer using this cross-hatching method makes for a more durable and water-resistant surface for your paint. The overall drying time for primer is about 24 hours so be sure to complete this step at least a day in advance before you plan on painting. If you plan on doing a lot of cardboard painting, you can prepare several sheets with primer so that you have ample canvases for future projects.
Two layers of primer ought to do the trick but feel free to add as many as you like. Just bear in mind that the weight of the cardboard sheet increases with every additional layer. Primers like gesso can sometimes cure with bumps or a scratchy surface during the drying process. Should you encounter this, you can smooth the top layer of primer down using a sheet of low-grit sandpaper.
Whatever instruments you use to apply the primer can be washed down straight away using water and maybe a bit of dishwashing liquid.
Get to Painting
Once you have primed your surface, it is time for the fun part. Provided that you have given your primer enough time to dry completely, you can get to the cardboard paint. Each of the three types of suitable paints for cardboard listed prior has its own recommended method of application and you may refer to this section of the article for some more helpful tips on how to approach your painting projects.