How Did Bob Ross Die? – The End of an Artistic Journey
Robert Norman Ross was one of the most loved painters of the modern and contemporary era, who was best known as Bob Ross for his light-hearted demeanor, hypnotic camera presence, and vibrant landscape paintings. But how did Bob Ross die, and how old was Bob Ross when he died? In this article, we will dive into a complete account of the details surrounding Bob Ross' cause of death, as well as his legacy and life achievements. Keep reading for all you need to know about the death of this art icon!
The Death of an Icon: What Happened to Bob Ross?
| | |
| --- | --- |
| Artist Name | Robert Norman Ross (Commonly known as Bob Ross) |
| Date of Birth | 29 October 1942 |
| Date of Death | 4 July 1995 |
| Nationality | American |
| Known For | Instructional painting, landscape art, and a television host on The Joy of Painting (1983 – 1994) |
What happened to Bob Ross, when did Bob Ross die, and how old was Bob Ross when he died? After discovering the serene works of this famous art icon, many have speculated about the controversy surrounding his estate and his cause of death. For those unfamiliar with the art legend, Bob Ross was a renowned landscape painter who dedicated his life to art education and entertainment.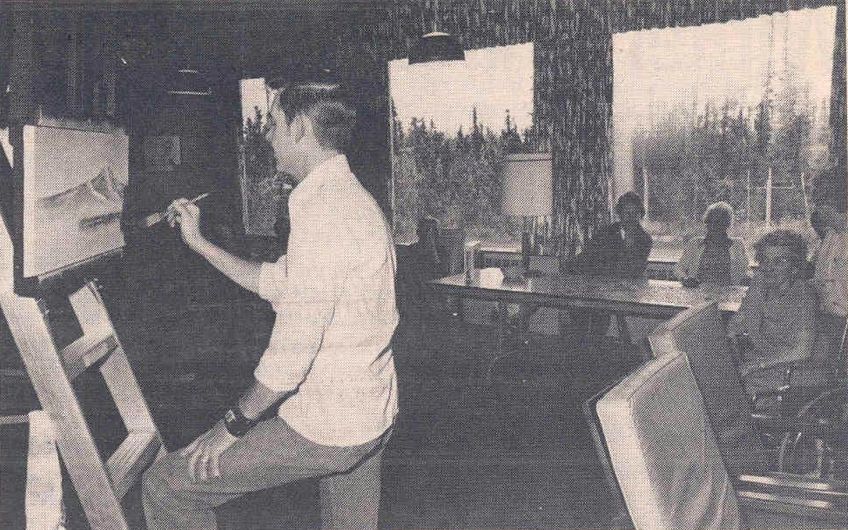 Painter Bob Ross making a painting demonstration in Fairbanks, Alaska (c. 1975); SrA Dan Saylor, Public domain, via Wikimedia Commons
Since Bob Ross' death from lymphoma in 1995, the world of instructional online art education has not been the same. Bob Ross was most famous for his television series The Joy of Painting, which aired on PBS, CBS, and many global channels and inspired countless novice artists to pursue painting as a career and a form of therapy. Below, we will dive into the details concerning Bob Ross' death, including the events surrounding his cause of death, the aftermath, and his legacy in the art world.
The Life and Art of Bob Ross
The impact that Bob Ross had on the art world was profound, to say the least. The most powerful form of influence in the late 20th century was media, advertising, and digital forums that offered more room for enabling access to the arts. Bob Ross is largely recognized, not for his picture-perfect landscapes, but more so for his global presence as a warm and laid-back personality, whose character shone best when painting.
The life of Bob Ross began in Florida, where he spent his childhood caring for critters who were injured and whom he mentioned in his television series.
To many fans' surprise, Ross dropped out of school in grade nine and pursued carpentry alongside his father. After losing a portion of his left finger to carpentry, Ross enlisted in the United States Air Force where he was assigned as a medical records technician. He managed to climb the ranks and was eventually based in Alaska, where he served at the Eielson Air Force Base clinic as a first sergeant. The majestic snow-white landscape of Alaska is said to have inspired Bob Ross' interest in landscape painting and he soon began working on his rapid painting techniques during his lunch breaks.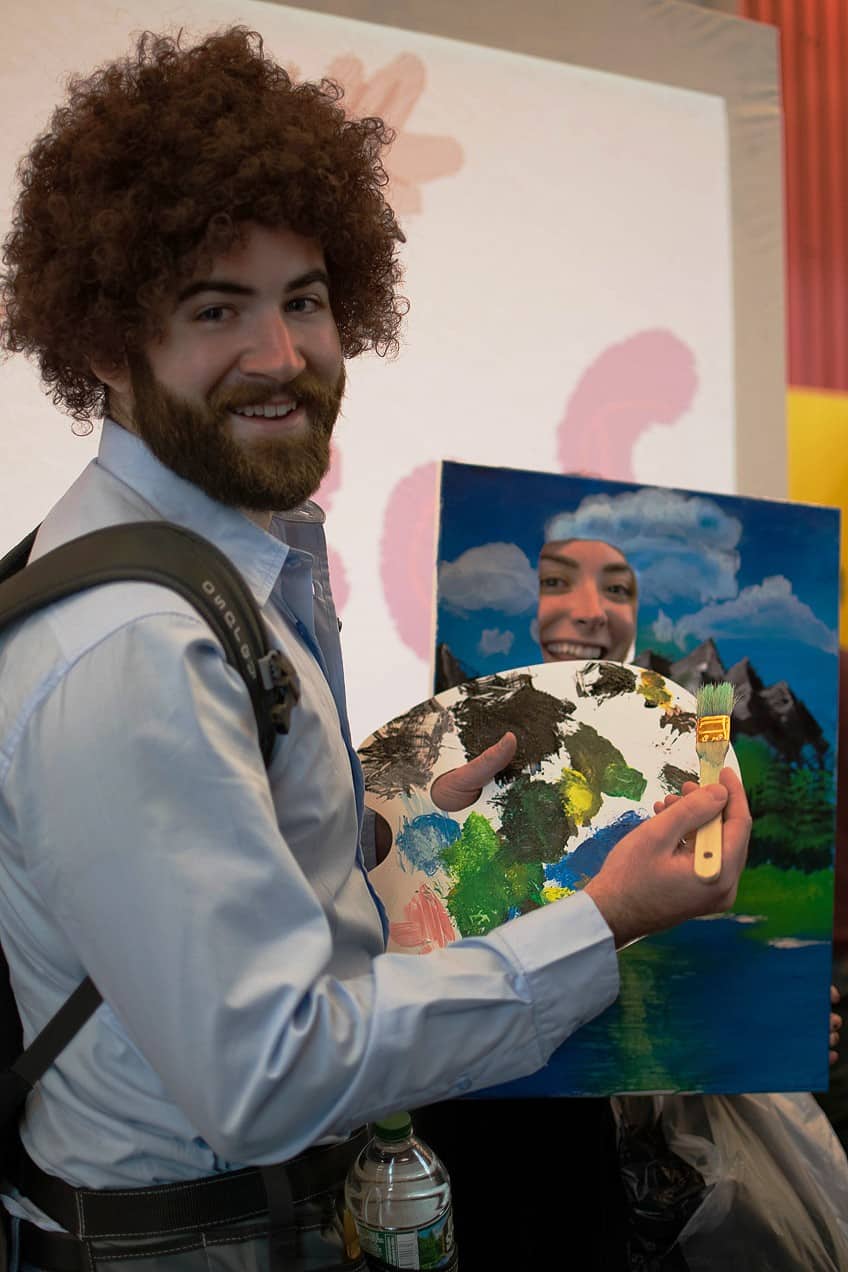 Cosplay of Bob Ross at New York Comic Con 2016; Bob Ross, CC BY 2.0, via Wikimedia Commons
Another surprising gem in Ross' life was his demeanor in the military, which required him to be harsher with his words than how he truly was. Ross made a personal vow to not raise his voice after leaving the military. Even while attending art classes at the Anchorage U.S.O. club, Ross often clashed with his teachers since he was more inclined toward abstract art.
Ross' statement from this period claimed that the club never taught one how to paint a tree, rather they prioritized what a tree was made up of.
The Godfather of ASMR
From simply observing and studying the techniques and methods on the Bill Alexander The Magic of Oil Painting show to hosting a show of his own, Bob Ross' passion for teaching art culminated in selling his first few Alaskan landscapes, which he painted on gold-mining pans. This allowed him to retire from the Air Force in 1981 and pursue his true passion as a tutor under the Alexander Magic Art Supplies Company. A client called Annette Kowalski encouraged Bob Ross to pursue a career independently and start his own company, which was funded by Ross, his wife, and Kowalski.
One might be surprised to discover that Bob Ross initially disliked his iconic permed hairstyle, however, it grew on him and eventually became his logo.
By 1982, the first tape of his art class aired from Falls Church in Virginia and received a ton of feedback and requests from around 60 PBS stations. Ross then signed a deal with WIPB, which required him to travel to and from Muncie, of which he taped many lessons for free while making sales from selling tapes, art supplies, and how-to art books. His taped lessons were broadcast from 1983 to 1994, of which each episode involved Ross teaching viewers about the wet-on-wet painting technique.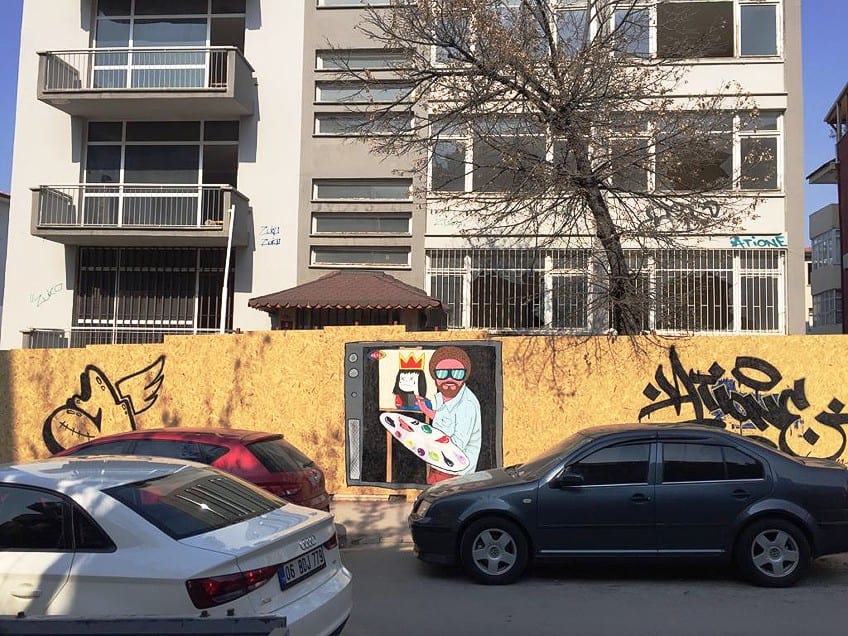 Street art in Ankara Çankaya involving the painter Bob Ross, 2022; Ertly, CC BY-SA 3.0, via Wikimedia Commons
In his shows, Ross created landscape paintings in real-time using a limited color palette to produce images from his mind. It is established that Bob Ross created around 30,000 paintings in his career, of which many of his original works rarely make an appearance on the art market. Along with his television show, Ross' business Bob Ross Inc. soon turned into a $15 million business. The majority of the paintings created by Ross during his show The Joy of Painting are owned by his company. What year did Bob Ross die, and what was Bob Ross' cause of death?
Below, we will unpack the details of Ross' death, including a few controversial events surrounding his death that will surprise you.
Reviewing Bob Ross' Cause of Death
When did Bob Ross die, and how old was Bob Ross when he died? Bob Ross' death was not a sudden occurrence. Bob Ross had been known to always hint at the fact that he would die young. Bob Ross was a known cigarette smoker for the majority of his life and also suffered from several other health complications throughout his career. Bob Ross passed away in 1995 on July 4th at the age of 52 in Florida. This was due to complications that arose from his struggle with lymphoma and his battle with cancer. However, the events surrounding his death are somewhat unfortunate since he was also facing many personal and legal issues regarding the ownership of his estate. According to some accounts, Bob Ross was heard shouting over a phone call, even from his deathbed, which alludes to the fact that he may have not had a peaceful ending.
Even before his diagnosis with cancer, Bob Ross was known to have been a life-long smoker who faced various health issues before he turned 40 and had already survived two heart attacks.
His second battle with cancer was diagnosed as lymphoma, which was a more rare and aggressive form of cancer that would soon end the iconic artist's life. Ross was diagnosed with lymphoma in 1994, which was around the same time as he was about to release his last episode on The Joy of Painting. In his final television appearance on the show, viewers may have also noticed the artist's once eagle-eyed demeanor turned into less dynamic energy, which was an indication of his declining health. Bob Ross was known to keep his diagnosis hidden from the public until after his death, while his diagnosis was only known to his close circle of family and friends.
Other speculations around the more likely causes of Bob Ross' condition had been attributed to the potential of his long-term exposure and contact with solvents, which are predominantly used when cleaning brushes. Mineral spirits are known to contain harmful chemicals, which over time and exposure, may have led to Bob Ross' condition. A toxicologist from an online source observed that Ross' production site was often filmed within a small room with little to no ventilation, while he used strong mineral spirits to clean his brushes.
Bob Ross passed away at his home in Florida and had a small funeral at a chapel, where 25 of his close family and friends attended.
Controversy Over Bob Ross' Estate
Perhaps one of the biggest controversies in lodging Bob Ross's death was the inheritance of his estate, since his company Bob Ross Inc. stipulated that the death of any partner would result in their stocks being equally shared among the partners. After the death of Bob Ross, along with his wife and the other partner of Bob Ross Inc., the company fell to the ownership of the Kowalskis, who became the sole owners of the company. It has also been reported that the new owners of Bob Ross' company were primarily interested in using Bob Ross's name to sell paint supplies and reportedly placed intense pressure on Bob Ross to hand over the rights to his estate before he died.
Ross gained the acquaintance of Annette Kowalski and her husband when he was still a young apprentice and received much help from the pair who helped Ross out with launching his career.
Tensions between the two families arose in 1992, when Ross' wife, Jane, passed away from cancer resulting in her shares being divided between all partners. According to Ross' son Steve, Ross spent his last hours in a "steaming hot" fight with the Kowalskis, who were allegedly trying to make Ross give up his cut. The controversy continued as Bob Ross attempted to write the Kowalskis out of his last will, and thus left the company and his name to his son and brother. As a result of this, the Kowalskis fought back and eventually won a lawsuit, which eventually entitled them to the rights of the company. The Kowalskis argued that everything that Bob Ross had accomplished and executed in his career was on a work-for-hire basis and that he had no right to bequeath them.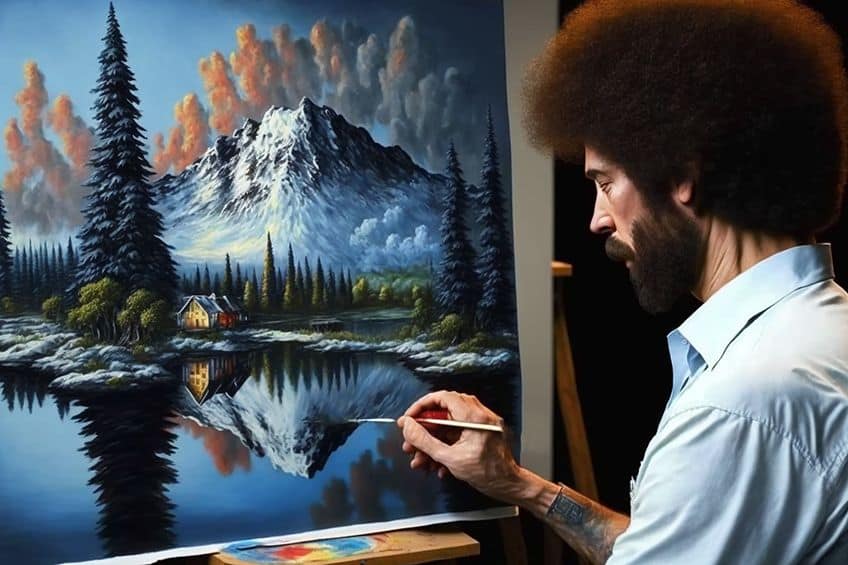 Bob Ross's remains rest at the Woodlawn Memorial Park in Florida with a plaque that honors his reputation as a television artist and the aftermath of Bob Ross's death, Joan Kowalski eventually took over the company and began merchandising more aggressively towards other marketable and profitable avenues besides painting products. Additionally, the new owner also agreed on a settlement with Bob Ross's son and brother, which granted them the rights to Bob Ross' name, as well as his likeness, in exchange for a guarantee that Bob Ross' son, Steve, could continue his art career without the potential threat of a lawsuit filed against him.
Today, Bob Ross' gravesite is frequently visited by other art students, as well as his family, who remember him to be a "simple man with simple taste".
Most of his family received an invitation to his funeral, and expressed their love of the art icon, who was also known as "the happy painter". While most of his acquaintances, colleagues, and friends attended his funeral, only two of Ross' previous business partners did not. For a more enthralling debrief of the legal battle and the controversy surrounding the lawsuits on Bob Ross' brand, a Netflix documentary was aired in 2021 titled Bob Ross: Happy Accidents, Betrayal, and Greed, which received strong criticism from the company concerning various accusations on the brand.
The Legacy of Bob Ross
The Joy of Painting continued to be broadcast in the years after Bob Ross' death and had slowly decreased in popularity. However, his role as an inspirational artist and happy painter of happy little trees remains a core memory for many artists who watched his show in the 1980s. His legacy was then revived with the birth of the Internet and continued into 2015 when the company struck a deal with Twitch to re-launch the show.
Ross' reputation was further propelled in the contemporary era by many who wished to have their burning questions answered about the location of Bob Ross' paintings and why it was nowhere to be found on the art market.
This was debunked by an investigative report conducted by The New York Times, which confirmed that his artworks were in storage under the ownership of the Kowalskis. While some speculate that Bob Ross' narrative and ongoing legacy are largely determined by the people in control of his name and brand, there are many of those who appreciate the value of rewatching Ross' shows as an icon in art education.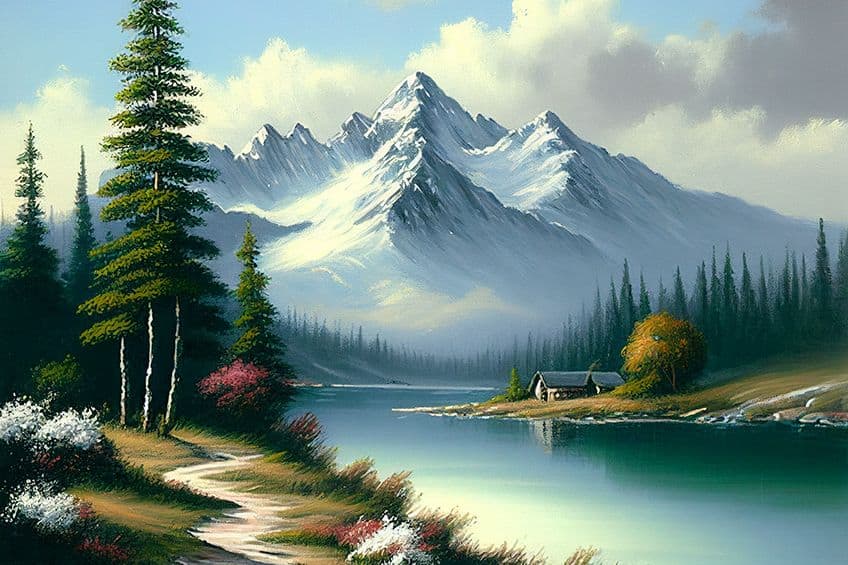 Ross' rediscovery by many new generations of artists kept his legacy and contributions alive despite the controversy surrounding his estate. Bob Ross' paintings were also purchased by the Smithsonian's National Museum of American History in 2019, one of which was exhibited publicly in 2021. Not only was the title of his show simple and timeless but it was also uplifting and inspired hope in many aspiring creatives to appreciate the wonders of the natural world.
The life and legacy of Bob Ross paints a picture of appearance versus reality that teaches us that there is more to an artist's public image than meets the eye. By learning the histories and inner worlds of some of the most iconic artists of the past, we can take away valuable lessons in terms of artwork ownership, as well as the odds and ends of starting a career with fellow partners.
Frequently Asked Questions
What Year Did Bob Ross Die?
Bob Ross, who was born Robert Norman Ross, died in 1995 on 4 July after battling years' worth of cancer. Bob Ross passed away at his home in Florida and was laid to rest at the Woodlawn cemetery in Florida.
How Old Was Bob Ross When He Died?
The famous American television host and painter Bob Ross was 52 years of age when he died in 1995. His death was thought of as untimely since he kept his struggle with lymphoma a secret from the public.
How Did Bob Ross Die?
After Bob Ross died in 1995, it was discovered that he was previously diagnosed with lymphoma, which is recognized as a cancer of the lymphatic system. It has also been theorized that Bob Ross' lymphoma was possibly caused by his exposure to solvents.
Jordan Anthony is a film photographer, curator, and arts writer based in Cape Town, South Africa. Anthony schooled in Durban and graduated from the University of the Witwatersrand, Johannesburg, with a Bachelor of Art in Fine Arts. During her studies, she explored additional electives in archaeology and psychology, while focusing on themes such as healing, identity, dreams, and intuitive creation in her Contemporary art practice. She has since worked and collaborated with various professionals in the local art industry, including the KZNSA Gallery in Durban (with Strauss & Co.), Turbine Art Fair (via overheard in the gallery), and the Wits Art Museum.
Anthony's interests include subjects and themes related to philosophy, memory, and esotericism. Her personal photography archive traces her exploration of film through abstract manipulations of color, portraiture, candid photography, and urban landscapes. Her favorite art movements include Surrealism and Fluxus, as well as art produced by ancient civilizations. Anthony's earliest encounters with art began in childhood with a book on Salvador Dalí and imagery from old recipe books, medical books, and religious literature. She also enjoys the allure of found objects, brown noise, and constellations.
Learn more about Jordan Anthony and the Art in Context Team.
Cite this Article