What is an art restoration fail, and why do they occur so often? Today's surviving masterpieces have often had to endure extreme conditions, from natural disasters like fires and water damage, to thievery, mishandling, and the many other deteriorating forces of time. Attempts to restore these valuable artworks often lead to infuriating failed art restorations, as the people trying to do the work are sometimes not exactly what you would call professionals. In this article, we will discuss how botched art restoration occurs and list the top examples of the worst art restoration efforts through time.
Art Restoration Fails
Failed art restorations include everything from painting restoration fails to failed sculptural and architectural monuments. The job of a restorer is to bring decaying and damaged pieces of art back to life. This task is creative, but it is not easy: one slight mistake and the masterwork is wrecked. Regrettably, errors are unavoidable.
Botched art restoration is often the result of amateur interference, with entirely mismanaged citizen initiatives and audacious creative choices. It usually causes hysterical amusement, although its absurdity can offend many art enthusiasts.
In some cases, a painting restoration failure can occur when an artwork is re-touched with paint by an amateur hand. The intricate details and nuance of a master artist could never be properly replicated, and very often fine facial details and fabric creases can all be lost under a generic smear of undecorated brushstrokes, leaving the image looking flat, without dimension, and lifeless.
On other occasions, restorers will attempt to add parts to sculptural artworks that have broken off or been stolen, often leading to some of the worst art restoration atrocities.
Arthur M. Sackler Gallery conservator Jane Norman touching up the color in a repair on a thousand year old Chinese Buddha head, 1987; John Tsantes, Public domain, via Wikimedia Commons
If the original image was already known to the public, then any deviation from that image would be ridiculed. Similarly, if the restorer was trying to add limbs to a sculpture that was discovered with them already missing, then scholars and historians would argue that one could not know what the artist's original image would have looked like, and any non-historical additions would devalue the artwork. One could say that the ideal restoration would simply clean the artwork best as possible, and reveal the existing image.
However, the problem arises when restorers fill in the missing pieces with their own imaginations and talents, which are usually leagues below the abilities of the original creators.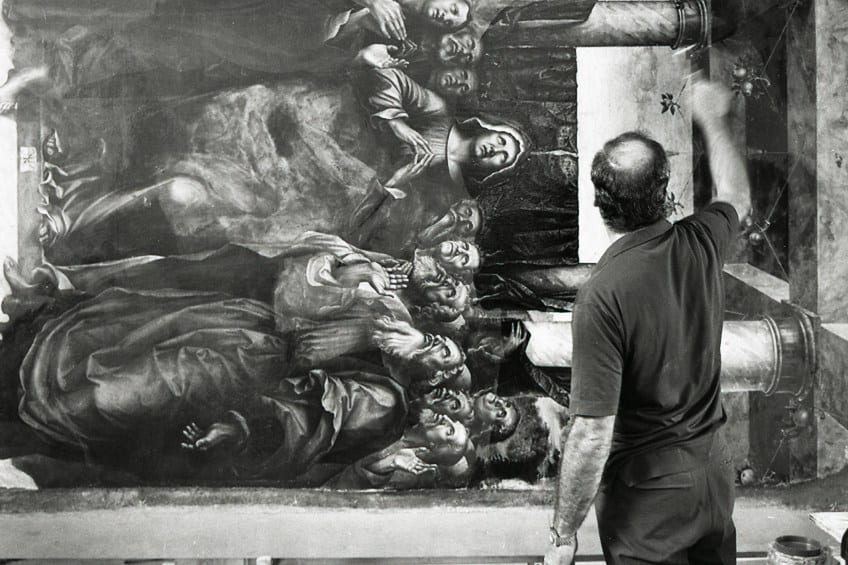 Documentation of the restoration of a fresco by Ottorino Nonfarmale, Bologna, 1972. Photographed by Paolo Monti; Paolo Monti, CC BY-SA 4.0, via Wikimedia Commons

Top 10 Failed Art Restoration Attempts
The following botched art restoration projects vary from amusing to disheartening. Some were so simple to repair that it's as if they never happened. Others have irreparably ruined masterpieces, necessitating massive fines. The remainder appears to be in the murky region, with individuals from the general population and academic communities still disputing whether this so-called art restoration fails are significant in the big scheme of things.
Here are our top 10 worst art restoration fails in order of the most decently restored to the worst offenders.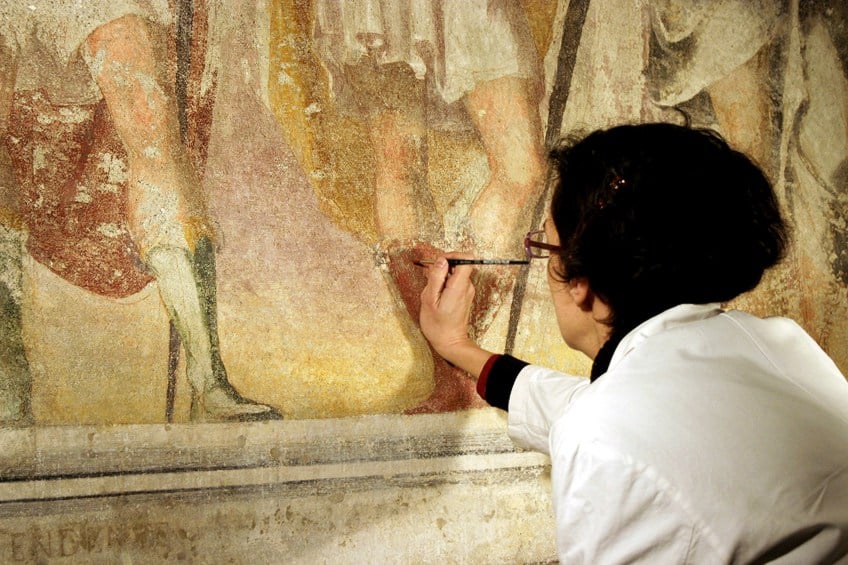 A restorer is patiently filling the gaps of the much damaged frescos in the crypt of the Sant'Eustorgio church in Milan, Italy; G.dallorto, Attribution, via Wikimedia Commons
St. Anthony of Padua Statue (17th Century)
| | |
| --- | --- |
| Original Date | 17th century |
| Date of Restoration | 2018 |
| Restorer | Unknown |
| Original Artist | Unknown |
| Current Location | Soledad, Colombia |
Colombian churchgoers reacted angrily in 2018 when a renovation job left a figure of a saint appearing like he was sporting make-up. Parishioners in Soledad expressed dissatisfaction with the work done to the monument of San Antonio de Padua, claiming that he is too effeminate. The 17th-century wooden figure had been extensively damaged over time, so the church hired an artisan to repair and refinish it.
However, the findings have irritated individuals of the religious community, who have taken to social media to express their displeasure.
"He is no longer the same saint I have worshiped to for the last 12 years; they put eye makeup, blush, and even sheen on his lips – he looks feminine," remarked one devotee. Others said that the transformation had transformed San Antonio into a "modern-day saint, a transgender saint."
The wood sculpture is displayed in the town's major church.
The renovation is estimated to cost $328. A restoration professional from Soledad shared before and after photos on Facebook to highlight the problems. He said the project went wrong because the artist did not apply the very specialized' procedures required to paint an old polychrome wood sculpture.
Wooden Religious Sculptures of Asturias, Spain (15th Century)
| | |
| --- | --- |
| Original Date | 15th century |
| Date of Restoration | 2018 |
| Restorer | Maria Luisa Menendez |
| Original Artist | Unknown |
| Current Location | Asturias, Spain |
In another story of a foolish churchgoer wrecking damage on a revered piece of sacred art, Maria Luisa Menendez decided to give a trio of 15th-century wooden statues a new coat of paint. Despite the fact that the sculptures had only been properly renovated 15 years ago, the parish priest allegedly granted his approval to the amateur.
Her brilliantly colored efforts—she provided Mary with turquoise hair – were universally panned for their comical appearance, as well as for being damaging to the paintwork and patina.
"They've used the type of industrial enamel paint they offer for painting things in very gaudy and ludicrous colors," a local remarked. "The outcome is just astounding." You're not sure whether to laugh or cry."
The Statue of Santa Barbara (c. 19th Century)
| | |
| --- | --- |
| Original Date | c. 19th century |
| Date of Restoration | 2012 |
| Restorer | Museu Histórico do Exército conservators |
| Original Artist | Unknown |
| Current Location | Santa Cruz da Barra Chapel |
This 19th-century sculpture originally featured a much more life-like appearance. The coloring and shading of the face were masterful, creating an image that had depth and life-like qualities. Restoration requires that the restorer attempts to replicate the original's appearance, but there are occasions where they seem to throw the blueprint straight out the window and opt for their own palette preferences.
Locals were taken aback by the renovation of the Santa Barbara monument at the Santa Cruz da Barra Chapel in Brazil.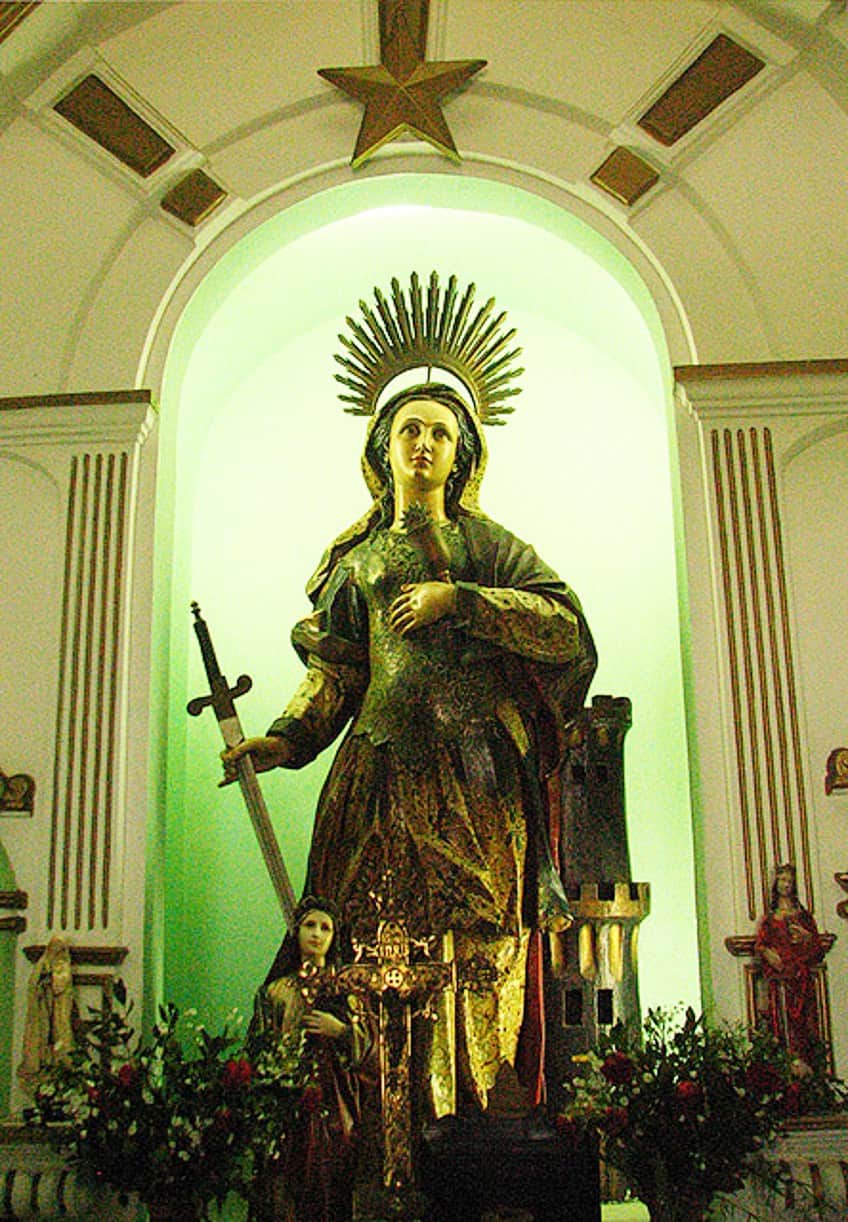 Santa Barbara statue inside the Santa Cruz Fortress at the Santa Cruz da Barra Chapel, Niterói, Brazil; Diego Dacal from Niterói – RJ, Brasil, CC BY-SA 2.0, via Wikimedia Commons
They liked her natural appearance and were unimpressed with her new yellow-toned face, dramatic lips, modern-looking eyebrows, and charcoal-colored eyeliner. Scholar Milton Teixeira was astonished to learn in 2012, that an enthusiastic restoration had tarnished the Santa Barbara statue. Restorers from Rio's Museu Histórico do Exército allegedly scraped up to four coats of paint to recreate the statue's original look over a six-month time frame, according to Bol Noticias.
Teixeira, a regular attendee of the church for the past 20 years, was shocked, stating that they had turned the once beautiful and graceful-looking figure into something that closely resembled a plastic Barbie doll.
Saint George (c. 16th Century)
| | |
| --- | --- |
| Original Date | 16th century |
| Date of Restoration | 2018 |
| Restorer | Unknown |
| Original Artist | Unknown |
| Current Location | Church of San Miguel de Estella, Navarre |
The Church of St Michael in Estella, became the newest holy spot to fall prey to some ill-advised brushstrokes in the summer of 2018. The attempts of a local artist to spruce up the walnut wood figure did not go completely as planned. The figure was left with a soft pink face and a stunningly bright set of armor that resembled Tintin to some and a Playmobil figure to others. However, the monument has since been restored to as near to its pre-2018 condition as feasible.
"It's been a long process since we had to run preliminary testing and gather samples to see how we might go about cleaning it and determining which materials and procedures would be the best," he explained.
The "restored" statue of Saint George on horseback at the Church of San Miguel, Estella, Navarre; Zarateman, CC0, via Wikimedia Commons
But he claimed to have been touched by the terror and guilt of those responsible for the bungled task. "When it arrived, I was struck not just by how poor the restoration had been, but also by how much the individuals involved were grieving and how terrified they were that there was no way to remedy it. Competent and trained individuals must look after our cultural legacy."
He continued: "We need to know our legacy as thoroughly as possible to safeguard it, and we need to be aware. On this occasion, someone in a town called us and told us what had transpired."
Estella's previous mayor stated that the town did not enjoy the attention that the statue's repair had brought it and would rather that visitors instead visit its historic Jewish district. "We don't want to attract people because of the way our legacy is being treated," Koldo Leoz stated last year. "We haven't made it public, and we won't make it public."
Others, on the other hand, have been eager to see opportunity in misfortune.
Borja was able to capitalize on the attention it received after a dedicated devotee, Cecilia Giménez, attempted to reconstruct the scourged Christ's face that had been put on the wall of a local chapel almost a hundred years before.
Mary and Baby Jesus Statue (20th Century)
| | |
| --- | --- |
| Original Date | 20th century |
| Date of Restoration | 2016 |
| Restorer | Heather Wise |
| Original Artist | Unknown |
| Current Location | Ste. Anne des Pins, Ontario |
For over a decade, attackers have targeted a white stone monument of Mary and infant Jesus in Sudbury, Ontario outside the Ste. Anne des Pins Catholic church. Heather Wise, a neighborhood artist, volunteered to repair the monument after the infant Jesus' head was broken off and removed in 2015. The artist, who had never dealt with stone before, expressed sadness about what occurred to the monument.
Father Gerard Lajeunesse, who serves at the parish, gave her permission to produce a clay substitute and said she hoped to produce a permanent head made of stone by 2017.
Images of the replacement head soon spread on social media, with some equating it to the failed art restoration of Jesus in Spain or the animated figure Maggie Simpson. According to Lajeunesse, local congregants have voiced astonishment, dissatisfaction, and amazement at the new pastor. "This is her first attempt. It's my first effort. And maybe, in the end, what is done will suit everyone," he continued, adding, "I wasn't prepared for this in seminary."
The artist subsequently explained that the head, which immediately disintegrated in the rain, was only a provisional substitute while she fashioned a replica out of stone. Nevertheless, before she could finish, the red head attracted extensive media attention, prompting the mystery thief to bring the original head back to the parish. The church revealed preparations to reinstall the statue with the lost crown in hand, however, authorities said they'd become fond of Wise's weird red alternative.
The artist, on the other hand, demanded the return of the clay head, which had become her most renowned piece to date.
Buddhist Frescoes (Qing Dynasty)
| | |
| --- | --- |
| Original Date | Qing Dynasty |
| Date of Restoration | 2013 |
| Restorer | Chinese Officials |
| Original Artist | Unknown |
| Current Location | Liaoning, China |
The paintings were discovered within a 270-year-old shrine in Liaoning, China's northeastern state. They've been totally covered in cartoon-style Taoist characters. The case, which was reported by a blogger, has sparked significant outrage in China.
An administrator in command of temple operations and the head of the cultural heritage inspection team in the municipality of Chaoyang, where the shrine is located, were fired over the incident.

The Communist Party chairman of the office in charge of the picturesque region surrounding the temple has also been warned, according to municipal official Li Haifeng. A blogger known as Wujiaofeng revealed the deception by posting photographs of the "restored" wall paintings online and comparing them to images of the originals. After images of the new artworks surfaced online, the local administration in Chaoyang promptly initiated an inquiry.
After the temple abbot requested it, city-level cultural heritage officials granted permission for the work to proceed.
Ancient Mosaics of Antakya (c. 2nd Century)
| | |
| --- | --- |
| Original Date | c. 2nd century |
| Date of Restoration | 2015 |
| Restorer | Unknown |
| Original Artist | Unknown |
| Current Location | Antakya, Turkey |
Restoration work on a set of Roman mosaics spanning from the 2nd to the 6th centuries in Turkey had gone tragically wrong due to a botched repair effort at the Hatay Archaeological Museum in Antakya's southern metropolis. In an editorial with a local daily four months ago, local carpenter Mehmet Daskapan expressed his reservations about the repair quality.
"Valuable Roman-era items have been damaged," he stated at the time. "They've turned into caricatures of their previous selves."
Daskapan's before and after photographs demonstrate the depth of the destruction. Some of the mosaic tiles have been changed with other shapes and colors of stones. As a result, the facial expressions are now distorted and warped. After the controversy broke, the Turkish Culture Ministry halted all repair work at the museum. Daskapan, for his part, voiced alarm about the scope of the affair.
"The new museum is now exhibiting roughly 65 percent of its content," he added, worried that precious panels in the institution's storage may have also been harmed.
The Matrera Castle (9th Century)
| | |
| --- | --- |
| Original Date | 9th century |
| Date of Restoration | 2013 |
| Restorer | Carlos Quevedo Rojas |
| Original Artist | Omar ibn Hafsn |
| Current Location | Cadiz, Spain |
Omar ibn Hafsn erected it in the 9th century to protect Iptuci, the most sophisticated city in the Cora de Ronda. Mount Pajarete, on the other hand, has been inhabited since antiquity. It was seized in the 13th century by San Fernando, who restored it. Nonetheless, it fell again into Muslim control at the start of the XIV century and was finally retaken by Alfonso XI in 1341. Nevertheless, because of its location in the heart of the Moorish Border or Band, it was attacked twice by Muslims from Granada in 1408 and 1445. The magnificent tower collapsed in 2013 due to heavy floods.
The architect Carlos Quevedo Rojas had been entrusted with the repair job, and he effectively opted to fortify the structure. But what was the issue? He mostly employed concrete.
A photograph of the Matrera Castle in Cadiz, Spain after restoration; Ignacio Palomo Duarte, CC BY-SA 4.0, via Wikimedia Commons
The restorer intended to emphasize the original elements and clearly separate them from the refurbished ones with his Brutalist style. However, this technique was not universally accepted. On the one hand, he received an award from the architectural company Architizer. The local community, on the other hand, was appalled by the killing.
Even though everyone has an opinion, one thing is certain: Quevedo Rojas crossed the line. While performing restorative duties, he established himself as an artisan and architect.
The Buddha of Anyue (c. 906 AD)
| | |
| --- | --- |
| Original Date | c. 906 AD |
| Date of Restoration | 1995 |
| Restorer | Local villagers |
| Original Artist | Unknown |
| Current Location | Anyue, China |
After photographs of its cartoonish color theme leaked online, the botched repair of a 1,000-year-old Buddha monument in southwest China generated widespread outrage and scorn. The relic was splattered with vibrant red, yellow, and blue paint, giving the ring behind Buddha's head the appearance of a lolly or dartboard rather than a halo. The Buddha is situated in Anyue County, Sichuan Province, southwest China, and dates back to the Song era (960-1279).
The repair work was suggested and performed in 1995 by local residents who "lacked information on cultural relic protection," according to a statement issued by the Anyue County administration in response to the viral photo.
The project had already been completed by the time the authorities became aware of it. Following the tragedy, the Cultural Heritage Administration strengthened the administration and security of such artifacts. In recent years, no equivalent repair work has been performed.
The occurrence was first documented in a before-and-after photo uploaded on Weibo by Xu Xin, a commentator who operates at the Yulin Buddhist cave temple site at the Dunhuang grottoes, one of the nation's most recognized cultural treasure's locations. The post, which condemned the disastrous rehabilitative attempts, sparked a firestorm of condemnation on social media.
Some blamed it on government supervision, while others were caught aback by the aesthetic impact, which obscured the original relics' patterns.
Ecce Homo (1930)
| | |
| --- | --- |
| Original Date | 1930 |
| Date of Restoration | 2012 |
| Restorer | Cecilia Giménez |
| Original Artist | Elías García Martínez |
| Current Location | Sanctuary of Mercy church, Borja, Spain |
This is regarded as one of the most notorious painting restoration fails. The original painter, a lecturer at the School of Art of Zaragoza, donated the artwork to the community where he used to spend his vacations around 1930, creating it directly on the inside of the church.
"This is the outcome of two hours of dedication to the Virgin of Mercy," he said.
The original Ecco Homo (1930) by Elías García Martínez before its disastrous restoration; Elías García Martínez, Public domain, via Wikimedia Commons
His descendants, who still reside in Zaragoza, were conscious that the artwork had deteriorated significantly; his granddaughter had made a gift toward its repair soon before they learned that the picture had been dramatically changed in an insufficient attempt to restore it.
Authorities in Borja initially suspected vandalism, but later established that the adjustments were performed by an aging devotee, Cecilia Giménez, who was 81 at the time. She stated on Spanish national tv that she began restoring the fresco because she was dissatisfied with how portions of it had peeled off owing to dampness on the church's walls.
Giménez explained herself, claiming she couldn't understand the outrage because she had worked in open view and had attempted to save the fresco with the permission of the local bishop. "The priest was aware," she said on Spanish television.
"I've never attempted anything covert." Interestingly, Giménez said that the intended repair was an unfinished work in progress. "I left it to dry and went on vacation for two weeks, thinking I'd finish the repair when I got back," she explained. "When I returned, everyone in the world had read about Ecce Homo. Because I wasn't completed with the restoration, the way people responded still bothers me. I still wonder about how none of this would have occurred if I hadn't gone on vacation."
That concludes our look at some of the worst painting restoration fails, as well as architectural fails. These examples of the worst art restorations make it obvious that restoration is itself an art form that should be best left to professional artists. Restoration is not a job for amateurs or enthusiasts.
Take a look at our bad art restoration webstory here!
Frequently Asked Questions
What Is an Art Restoration Fail?
Today's surviving masterpieces have frequently been subjected to harsh conditions, ranging from natural calamities such as fires and water damage to robbery, mistreatment, and the many other eroding forces of time. Attempts to repair these costly artworks frequently result in aggravating unsuccessful art restorations, as the persons attempting the process are not always what you would call specialists.
How Do Failed Art Restorations Occur?
Painting restoration failure can occur in rare situations when an artwork is retouched with paint by an inexperienced hand. Fine face details and fabric wrinkles are frequently lost behind a general smear of brushstrokes, leaving the image seeming flat, lifeless, and lacking perspective. At other times, restorers would attempt to reattach shattered or stolen sculptural artwork elements, resulting in some of the greatest art restoration atrocities.
Isabella studied at the University of Cape Town in South Africa and graduated with a Bachelor of Arts majoring in English Literature & Language and Psychology. Throughout her undergraduate years, she took Art History as an additional subject and absolutely loved it. Building on from her art history knowledge that began in high school, art has always been a particular area of fascination for her. From learning about artworks previously unknown to her, or sharpening her existing understanding of specific works, the ability to continue learning within this interesting sphere excites her greatly.
Her focal points of interest in art history encompass profiling specific artists and art movements, as it is these areas where she is able to really dig deep into the rich narrative of the art world. Additionally, she particularly enjoys exploring the different artistic styles of the 20th century, as well as the important impact that female artists have had on the development of art history.
Learn more about the Art in Context Team.