What to Wear to an Art Show – Appropriate Art Gallery Outfits
Art galleries are frequently visited by art fans all around the world. Visitors to art galleries not only learn about art; they can be entertained and influenced by an art piece. There is always something interesting to see in art galleries, but are there important art gallery dress codes that need to be adhered to? Wondering what to wear to an art show? Let us now discover a few answers to these questions below!
Wondering What to Wear to an Art Show?
You may have an invitation to the opening of a new art gallery, or you just want to go to an art show to view some of the amazing artworks that are on display. The question is what is the best art gallery outfit? There is no wrong or right way to dress for an art exhibition, but there is an unspoken art gallery dress code that needs to be considered.
When attending an opening or show at an art gallery, you need to dress in a certain way that will be acceptable.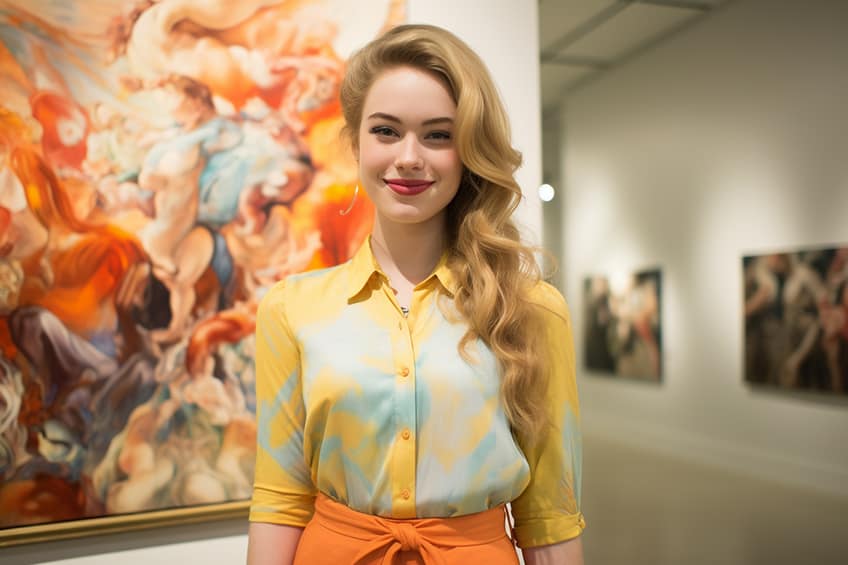 This means that attending in sandals and shorts might be frowned upon. You may not be aware of what to wear to an art show, however, you can have some common sense. You need to be dressed suitably for this occasion, just like it is not sensible to wear a suit to a rap concert, or shorts to an opera, so you need to wear an art gallery outfit that is fashionable, appropriate, and comfortable.
What to Wear to an Art Show for Women
The first thing you need to consider before choosing an art gallery outfit is what type of event it is, and where it is going to be held. If the event you are going to attend has no dress code, then there is no problem, and you can feel free to wear anything you have in your closet, like a skirt or dress or a combination of the two, or even jeans and a shirt, as long as it is presentable. There are numerous ways you can dress up a pair of jeans. However, if it is to be an event in an upscale gallery or museum, then there is usually a strict dress code.
You need to stick to the rules and choose the right art gallery outfits, so you do not run into trouble by looking out of place amongst the other guests.
If you are still unsure as to what the dress code is, ask someone for help, like a friend or someone you know who is also going to the event. Ideally, if you are acquainted with the artist, you can ask them to suggest an appropriate outfit. Ensure that the art gallery outfit is not too loose or too tight. Choose something that you can move and feel relaxed in, as you do not want to feel uncomfortable throughout the event. Try not to dress up too formally as it is not a job interview or a wedding you are attending. The invitations will usually say whether it is a more formal occasion or not. Many upscale establishments also post their art gallery dress code on their website or in a brochure.
Do not wear any art gallery outfit that is too short or revealing or make the outfit too garish as the show is about the art and not the outfits. Although, this might be up for debate by some. Consider lightweight fabrics that will keep you cool and will not wrinkle. If you have chosen a skirt or pants, then neutral or dark colors like black or brown are ideal as the light-colored fabric can reflect the light and disrupt or distract other guests. Sparkly sequins might also not be the best choice. Consider some of these art gallery outfits below, for some inspiration.
Jeans and Blazer
If you are going to attend an art show in a metropolitan museum, then a pair of jeans worn with a blazer is a contemporary and modern style choice. You can also wear a shirt with a collar to give your outfit a more casual look. Adding a pair of block-heel shoes with a crossbody handbag will take your art show outfit to the next level.
Trousers and Silk Top
When visiting an art gallery, trousers are an excellent choice, giving you a polished appearance without overdoing it. Adding a silk top will go well with the trousers because it is comfortable to wear and very fashionable. Also, including a matching handbag and a necklace with a pair of nude heels will go well with this outfit.
Jumpsuit
If you have a jumpsuit in your wardrobe, it is an ideal art gallery outfit. It is chic, comfortable, and has both a sophisticated and casual look. By adding a pair of earrings with a matching necklace and a cross-body handbag, you will look more than fashionable. You may be doing a lot of standing and walking, so make sure you wear a comfortable pair of shoes, or you will end up with blisters.
As art galleries can be a bit chilly, be prepared, and take a light coat with you.
Black Dress
This is a classic choice and an amazing art show outfit idea. It could be a black lace dress, a black swing dress, or a black pinafore, whatever you choose that you think will make you look fashionable. You do not have to limit yourself to black, you can experiment with different colors, prints, or designs.
You can include a denim jacket for a more casual look or a beautiful coat for a more formal look.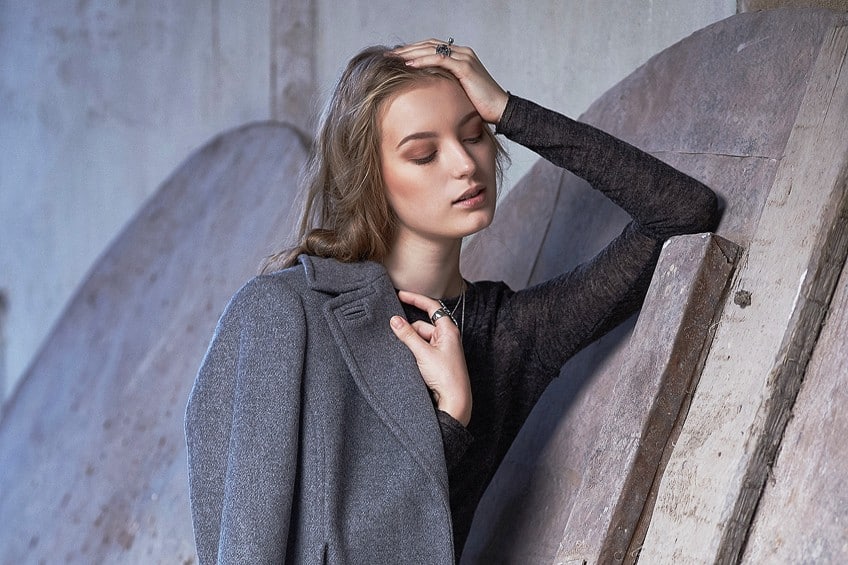 Plaid Outfit
Plaid is a great idea to add to your art show outfits, as it gives you a more academic look, and will always fit into any dress code at any art gallery exhibition. A plaid button-down shirt also gives you a casual look, which you can pair with a skirt or black pants and a mini handbag to complete the outfit. There are even plaid dress outfits and plaid pants as well.
Midi Skirts
Art show outfits with midi skirts are a little more demure than a short skirt. You can go for a more casual look, with a denim jacket and shirt, or consider wearing a blazer or cardigan to make the look more exciting. You can also add a simple pair of black flat shoes, or consider something with more flair, like something with a heel or a pair of boots.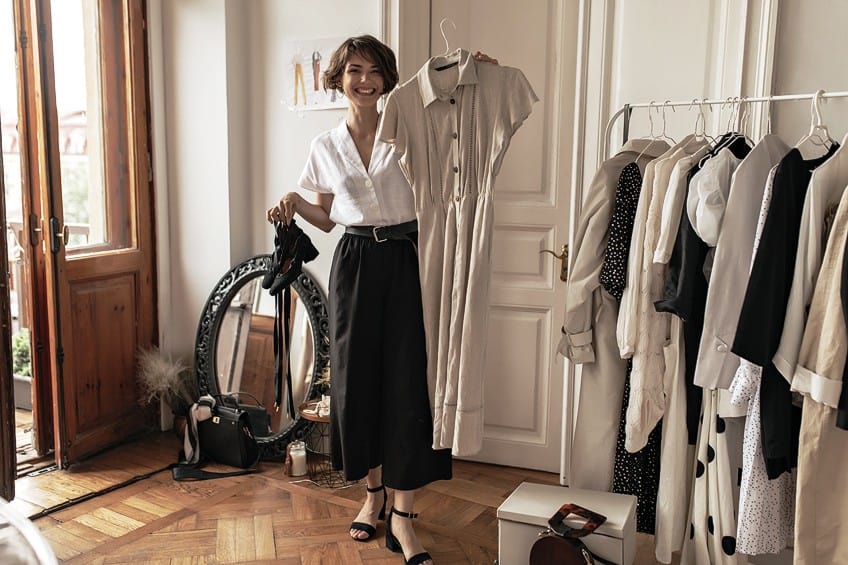 What to Wear to an Art Show for Men
When looking at what to wear to an art show, women have a lot more options available to them than men. However, today, men have many more ideas for art show outfits. If it is the opening night of a new art gallery or a new art exhibition, then the guests are usually expected to dress more formally. This will not only meet the requirements of the art gallery dress code, but it is also an occasion to show your respect for the hard work done by the artist as well as the curator.
In many cases, the outfit will require a suit and tie. However, there is some leeway and guests can opt for a more casual formal look. This can include a dress shirt, but without the tie, and instead of a suit blazer, consider a jacket or coat.
You can also opt for a pair of trousers or slacks, with a sports coat or blazer, complemented with a smart pair of shoes that could be different styles, from Derby and Oxford to loafer, desert boot, or brogue. Do not go for tight and skinny jeans or shorts. It is always advisable to dress more formally than to risk being too casual. Remember, ensure the colors you choose for your art show outfits complement each other so that everything looks good when worn together.
A more casual look can be a pair of dark-colored jeans with a collared shirt, or polo shirt, and a pair of loafers. Make sure the shoes you are going to wear are comfortable, as you could be standing a lot and walking around. Never wear flip-flops or open shoes like sandals or slippers.
Accessorizing Your Art Show Outfits
The use of jewelry will add flair to your outfits, like necklaces, earrings, bracelets, and watches. For example, with a black dress, you can wear a gold bangle and necklace. The gold will contrast nicely against the black dress. A watch is an elegant piece of jewelry and adding it to your outfit will give it that extra dimension. Wearing a scarf will give extra flair to your outfit, just make sure it is made of a thin fabric so that it will not be too hot to wear. A printed scarf worn with a dress can make things look more interesting. Try different ways to wrap it around your neck.
Why not try wearing a pair of glasses, even if your eyes are perfect, a pair of glasses that are colorful and different can accent your outfit. If you do wear glasses permanently, try wearing a different pair to your everyday glasses. Select something that is the same color as your outfit.
Hats are also in fashion, like a wide-brimmed hat or a fedora that matches the color of your outfit. Consider a hat that has a bold color, which can help to accent your outfit. Be careful not to go overboard with the hat, as you can run the risk of looking far too overdressed for the occasion. For the men, accessories that will accent your outfit can be glasses, watches, belts, or even a pair of sunglasses if the event is held outdoors. A nicely folded colorful pocket handkerchief in the top pocket of your jacket is a simple idea.
In this article, we have covered numerous options for you to consider when attending an art show. The event can easily take place at an art gallery, art museum, or other venue. So, you need to try and pair your outfits to suit the occasion and venue. Always check the invitation or website for information on the dress code. In most instances, smart casual is perfect, but if required, formal wear might need to be considered. Most importantly, try to dress in something comfortable, as you will be spending most of the time standing and walking around the gallery.
Frequently Asked Questions
Do All Art Galleries Have Dress Codes?
Not all galleries have an art gallery dress code. Some of them may have specific dress codes, while others will have ordinary standard dress codes. So, to be on the safe side, always dress smart casual, making sure that the outfit is appropriate and comfortable.
What Should You Take With You to an Art Gallery?
When attending an art exhibition at an art gallery, you can bring things like a light cardigan if it gets cold, and a notebook with pencils. Most art galleries do not allow any drinks or food. However, for most events, food and drinks are provided. Taking a camera might be allowed in certain galleries but prohibited in others. Always check before taking your camera with you.
Do You Have to Pay to Attend an Art Show?
Some art galleries have a free entry, where there is no charge. However, many art galleries charge their visitors an entry fee, which can vary from gallery to gallery. If it is the opening of a new art gallery or if there are new art pieces on display, there can be an entrance fee. An art museum also usually has an entrance fee.
In 2005, Charlene completed her Wellness Diplomas in Therapeutic Aromatherapy and Reflexology from the International School of Reflexology and Meridian Therapy. She worked for a company offering corporate wellness programs for a couple of years, before opening up her own therapy practice. It was in 2015 that a friend, who was a digital marketer, asked her to join her company as a content creator, and this is where she found her excitement for writing.
Since joining the content writing world, she has gained a lot of experience over the years writing on a diverse selection of topics, from beauty, health, wellness, travel, and more. Due to various circumstances, she had to close her therapy practice and is now a full-time freelance writer. Being a creative person, she could not pass up the opportunity to contribute to the Art in Context team, where is was in her element, writing about a variety of art and craft topics. Contributing articles for over three years now, her knowledge in this area has grown, and she has gotten to explore her creativity and improve her research and writing skills.
Charlene Lewis has been working for artincontext.org since the relaunch in 2020. She is an experienced writer and mainly focuses on the topics of color theory, painting and drawing.
Learn more about Charlene Lewis and the Art in Context Team.
Cite this Article