Where is St. Paul's Cathedral and when was St. Paul's Cathedral built? St. Paul's Cathedral in London is regarded as one of the city's most recognizable monuments. This London cathedral has been a prominent feature of the city's skyline for more than 300 years! There's much to discover about St. Paul's Cathedral in London, so let us get straight to it!
Exploring the St. Paul's Cathedral in London
| | |
| --- | --- |
| Architect | Sir Christopher Wren (1632 – 1723) |
| Date Completed | 1710 |
| Function | Cathedral |
| Location | London, United Kingdom |
St. Paul's Cathedral has an interesting history. This structure has gone through various versions over the period of several centuries. It has witnessed numerous significant historical events and remains one of London's most recognizable structures. St. Paul's Cathedral is a must-see for any visitor to the city. Its spectacular dome, ominous crypt, and intriguing Whispering Gallery are all must-see attractions. And, of course, the cathedral's history is incredible in and of itself.
The dome of St Paul's Cathedral; © User:Colin / Wikimedia Commons
The History of St. Paul's Cathedral
St. Paul's Cathedral has a colorful history since at least four separate churches have been erected in this location. King Erkenwald constructed the first church devoted to St. Paul in 604 CE. It was once just a basic wooden church. Sadly, it would be completely destroyed by fire in the end. The first incarnations of St. Paul's Cathedral did not endure long. They would invariably be demolished by fire or Viking raids. Ultimately, in 1087 CE, Bishop Maurice would construct a cathedral that would span over 600 years. This construction is today known as the Old St. Paul's Cathedral, and it was the center of religious activity in London during its lifespan. Unfortunately, this cathedral was also destroyed by fire during 1966's Great Fire of London. Most of London was destroyed in this inferno. There were more than 13,000 dwellings and 90 churches razed in the Great Fire and St. Paul's Cathedral was one of the buildings. Obviously, St. Paul's Cathedral's story does not end there.
Sir Christopher Wren, who had been hired to restore the cathedral, was tasked with totally reconstructing it. Before being accepted, he had to go through three distinct designs. The very first of these designs were thought to be too basic. The Great Model, the next design, was an ambitious concept with Corinthian columns and a large dome. This was also rejected because it was deemed unsuitable for massive processions.
Crypt of St. Paul's Cathedral, with Christopher Wren's memorial on the left; W. J. Sparrow-Simpson, Public domain, via Wikimedia Commons
After Wren decreased the scale of the dome, the final design was eventually accepted. Surprisingly, Wren went on to make more changes after receiving permission to continue. The existing cathedral currently resembles his Great Model more than the authorized design. The present St. Paul's Cathedral was constructed between the years 1675 and 1711. All in all, this was a rather brief period of time. St. Paul's Cathedral's history has been closely interwoven with the history of London from that time. It has held numerous significant events, including the funerals of Margaret Thatcher and Winston Churchill, peace services commemorating the conclusion of both world wars, the wedding ceremony of Prince Charles and Diana, Queen Elizabeth II's 80th and 90th birthdays, and many others.
The Architecture and Engineering of St. Paul's Cathedral
Now let us examine St. Paul's Cathedral's architecture now that we've covered its history. St Paul's Cathedral is constructed in a subdued Baroque style that reflects Wren's combination of the customs of English medieval cathedrals with Palladio's ideas, the traditional design of Inigo Jones, the baroque aesthetic of Rome in the 17th century, and structures by Mansart and many others that he had witnessed in France. The layout of St Paul's Cathedral, particularly, exhibits medieval elements. St Paul's, similar to the renowned medieval cathedrals of Winchester and York, is relatively long for its breadth and features dramatically projecting transepts. It places a strong focus on its facade, which is intended to emphasize instead of concealing the shape of the structure behind it. The towers protrude beyond the breadth of the aisles in the design.
Wren's uncle was also the Bishop of Ely and having spent time working for him, he was acquainted with Ely Cathedral's distinctive octagonal lantern tower above the crossing, which crosses the aisles in addition to the central nave, unlike other cathedrals' central towers and domes. Wren incorporated this aspect while creating the dome of St Paul's Cathedral. St Paul's further displays a medieval influence with the aisles significantly lower than the nave and a marked clerestory.
Architecture
Its most recognizable feature is undoubtedly its massive dome. Michelangelo's Dome of St. Peter's Basilica has a clear influence on the design. The dome is about 365 feet tall and weighs more than 65,000 tons. As a result, until the late 20th century, St. Paul's Cathedral was London's highest structure. The dome is one of the world's biggest constructions of its kind. In addition, the 560 stairs leading to the pinnacle of the dome take guests through three separate galleries. The Whispering Gallery is renowned for its excellent acoustics, while the Golden Gallery offers a breathtaking perspective of the city. One of its most distinguishing aspects is its western facade. This section of the church has a massive portico, and a relief depicting St. Paul's conversion. On either side of the portico, there are two towers. These were incorporated at the last minute by Wren and weren't included in the original plan. The interior design is equally remarkable.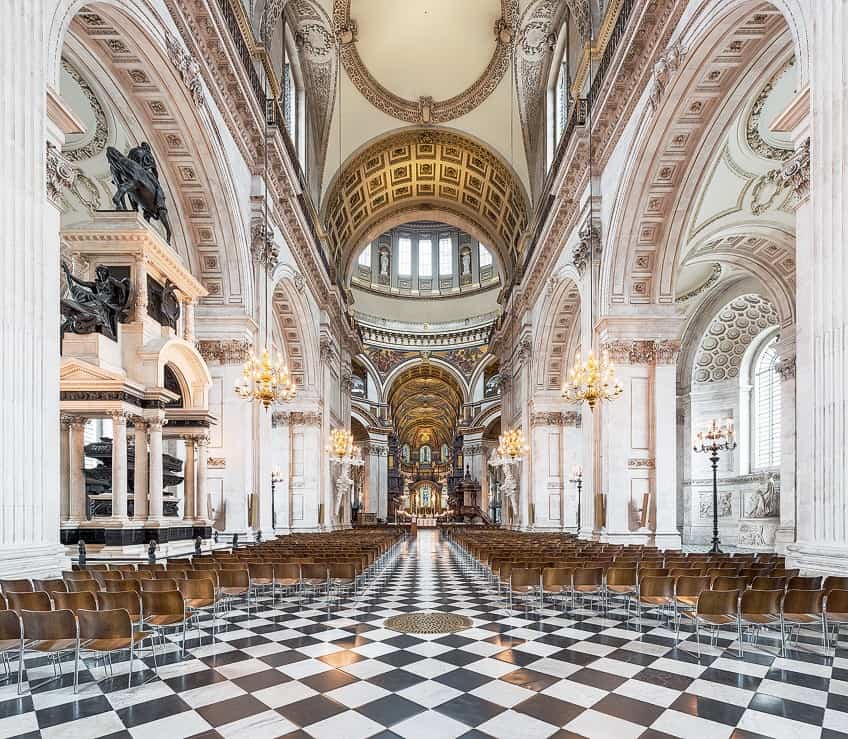 St. Paul's Cathedral nave looking east towards the central dome and choir; Diliff, CC BY-SA 3.0, via Wikimedia Commons
Its lengthy nave is very impressive. The inside of the Dome, the gigantic Great West Door, and various scenes from St. Paul's life may all be seen from here. Several historical individuals are also interred in the crypt. Many of them are works by artists like Turner, Constable, and Reynolds. There are also the tombs of Admiral Nelson, Duke of Wellington, and Sir Christopher Wren himself.
Structural Engineering
Wren's task was to build a big cathedral on London's comparatively poor clay soil. St Paul's Cathedral is unique among comparable cathedrals in that it has a crypt, the biggest in Europe, beneath the whole structure rather than just the eastern end. The crypt is structurally important. Despite its size, half of the crypt is taken up by huge piers that disperse the weight of the church's considerably narrower piers above. While most cathedral domes and towers are supported by four piers, Wren planned St Paul's dome to be held by eight, creating a more even weight distribution at the foundation level. Sir Christopher Wren made structural adjustments when the foundations settled as the project progressed.
One of the design challenges was creating a landmark dome tall enough to visually replace the missing tower of St Paul's while yet seeming visually pleasing when observed from inside the structure. Wren envisioned a double-shelled dome similar to that of St. Peter's Basilica.
His answer to the visual obstacle was to split the heights of the outer and inner domes considerably further than Michelangelo had achieved at St Peter's, drawing them as catenary arcs instead of hemispheres. Wren incorporated a brick cone between the outer and inner domes to support both the beams of the exterior, the lead-covered dome, and the load of the magnificent stone lanterns that rise above it. Both the inner dome and cone are 18 inches thick and are held together by wrought iron chains placed at regular distances in the brick cone and along the cornice of the inner dome's peristyle to avoid spreading and splitting.
Bells and Clocks of St. Paul's Cathedral in London
Langley Bradley constructed a clock in the southwest tower in 1709, but it was wearing out by the close of the 19th century. Smith of Derby designed the current device in 1893, utilizing an escapement concept by Edmund Denison Beckett identical to that employed by Edward Dent on Big Ben's clockwork in 1895. The clockwork is 5.8 meters in length and is the most recent addition to St Paul's Cathedral over the ages. Since 1969, the clock has been electronically wound using technology built and fitted by Smith of Derby, relieving the clock keeper of the laborious task of cranking up the massive driving weights. The southwest tower also houses Great Paul, which was cast in 1881 and was the biggest bell in the British Isles until the Olympic Bell was cast for the London Olympics in 2012.
Despite the fact that the bell was customarily rung at 1 p.m. every day, it has not been rung for some years due to a malfunctioning ringing mechanism. The clapper and its support, which weighed a tonne in total, had crashed through the clock mechanism below in the 1970s, incurring £30,000 in damage. The clapper ultimately and irreversibly broke about 1989.
The southwest clock Tower of St Paul's Cathedral in London; Julie Anne Workman, CC BY-SA 3.0, via Wikimedia Commons
Great Tom, one of the clock bells, was brought from the Palace of Westminster and has been recast multiple times, most recently by Richard Phelps. It tolls the hour and is typically rung on the passing of a member of the Bishop of London, the royal family, or the Lord Mayor of London, however, an exception was made when US President James Garfield died. It was last tolled at Queen Elizabeth II's death in 2022, ringing one per minute together with other bells around the UK in remembrance of her 96-year reign.
Memorials, Tombs, and Artworks
At the moment of its completion, the famous London cathedral was ornamented with artworks, such as wood and stone sculptures, most significantly that of Grinling Gibbons, Thornhill's paintings in the dome, and Jean Tijou's magnificent metal work. Sir William Richmond's mosaic works and furnishings by Godfrey Allen and Dykes Bower have added to its beauty. Other works in St. Paul's Cathedral in London include a replica of William Holman Hunt's masterpiece The Light of the World (1854) in the south aisle. Because Hunt was suffering from glaucoma at the time, Edward Robert Hughes contributed significantly to St. Paul's version. A sculpture made from limestone of the Madonna and Child by Henry Moore, sculpted in 1943, may be found in the north choir aisle. The crypt has around 200 memorials and several tombs, with Sir Christopher Wren being the first to be buried there in 1723. Alfred Stevens' monument to the Duke of Wellington is the cathedral's biggest. It is situated on the northern side of the nave and features a monument of Wellington sitting atop his horse.
Although the horseback figure was planned from the beginning, resistance to placing a horse in the chapel delayed its placement until 1912. John Tweed created the piece. The Duke of Wellington was laid to rest in the crypt, and Lord Nelson's grave was placed near Wellington's.
Tomb of Horatio Nelson in Saint-Paul's Cathedral; mhx from London, United Kingdom, CC BY-SA 2.0, via Wikimedia Commons
The marble tomb that houses his ashes was designed for Cardinal Wolsey but was never used since the cardinal had fallen out of favor. There are lists of Cathedral Deans and Bishops dating back a thousand years. One of the most notable monuments is that of John Donne, the poet, and Dean. Donne sat for his own memorial sculpture before his passing, which was represented by Nicholas Stone as shrouded in a burial cloak and standing atop a funeral urn. The artwork, which was sculpted circa 1630, is the only one that survived the 1666 fire undamaged. The treasury is also located in the crypt, however, the cathedral contains relatively few valuables because many have been stolen, and a great heist seized practically all of the remaining important artifacts on 22 December 1810.
The Arts Project of St. Paul's Cathedral
The St Paul's Cathedral Arts Project investigates the relationship between artwork and faith. Antony Gormley, Gerry Judah, Rebecca Horn, Martin Firrell, and Yoko Ono have all contributed to projects. St Paul's asked Gerry Judah to construct an installation in the nave to mark the 100th anniversary of the start of World War I in 2014. Two magnificent monuments of three-dimensional white cruciforms mirror the meticulously preserved grave sites in northern France and beyond. Each artwork is also adorned with miniature demolished apartment blocks portraying war zones in the Middle East – Baghdad, Syria, and Afghanistan – connecting 100 years of conflict. Bill Viola designed two altarpieces that will be on permanent exhibit in St Paul's Cathedral.
Production on the project began in mid-2009. Following the completion of a major cleaning and restoration effort for the interiors of St Paul's in 2005, Viola was appointed to design two altarpieces on the subjects of Martyrs and Mary. These two multi-screen multimedia projections, which flank the cathedral's High Altar and the American Memorial Chapel, are installed permanently at the end of the Quire aisles.
Aerial view of St Paul's Cathedral; Mark Fosh, CC BY 2.0, via Wikimedia Commons
Each piece features a configuration of numerous plasma screen panels in the style of antique altarpieces. St Paul's picked two new pieces by Mark Alexander, the British artist, to hang on either side of the nave in the summer of 2010. Alexander's big red silkscreens, both named Red Mannheim, are motivated by the Mannheim Cathedral altarpiece, which was devastated by the bombing during WWII. Christ is shown on the crucifixion in the original artwork, accompanied by a familiar entourage of mourners. This masterwork of German Rococo is an item of breathtaking splendor and deep piety, rendered in beautiful giltwood, with Christ's tortured body carved in relief, bursts of flora, and glowing rays from heaven.
St. Paul's Cathedral is a famous London monument that should be on your London bucket list. St. Paul's Cathedral is London's most famous and largest church. It is the Bishop of London's seat and the current St. Paul's Cathedral is the fifth to be erected on this location. Sir Christopher Wren constructed it after its Gothic predecessor was burned in 1666 in the Great Fire of London. The London cathedral was finished by 1710. It was the first cathedral constructed following the Protestant Reformation in 1534. It is also the only cathedral in the world that was conceived and constructed by a single architect.
Frequently Asked Questions
Where Is the St. Paul's Cathedral and Who Built It?
St. Paul's Cathedral is a historic Anglican cathedral in London, England. Christopher Wren was Britain's most prominent architect, as well as a physicist, astronomer, and mathematician. When he was handed the commission, Wren was self-taught and had no official training. This may seem weird, however, architecture did not become a profession until the 19th century. Wren pushed for constructing a cathedral with a large dome, and the final design was accepted in 1675. He was granted the option to replace the ornaments. He scrapped the idea of a towering spire above the dome.
When Was St. Paul's Cathedral Built?
Construction began in 1675 and it was completed in 1710, which is a rather short period of time compared to many other famous cathedrals – some of which took centuries to eventually complete. The current cathedral replaced a medieval cathedral of the same name that was devastated in the Great Fire of London (1666). St. Paul's Cathedral is a Grade I listed structure (a building of particular historical and architectural interest), and one of London's most recognizable monuments. It also serves as the Bishop of London's residence and is a significant place of devotion for the Church of England.
Justin van Huyssteen is a freelance writer, novelist, and academic originally from Cape Town, South Africa. At present, he has a bachelor's degree in English and literary theory and an honor's degree in literary theory. He is currently working towards his master's degree in literary theory with a focus on animal studies, critical theory, and semiotics within literature. As a novelist and freelancer, he often writes under the pen name L.C. Lupus.
Justin's preferred literary movements include modern and postmodern literature with literary fiction and genre fiction like sci-fi, post-apocalyptic, and horror being of particular interest. His academia extends to his interest in prose and narratology. He enjoys analyzing a variety of mediums through a literary lens, such as graphic novels, film, and video games.
Learn more about the Art in Context Team.