Cut-Outs by Henri Matisse – Famous Matisse Paper Cut-Outs
When you think about Henri Matisse, you probably associate him with the Fauvist art movement, but there was much more to this artist than colorful canvases! The paper cuts arranged as collages by Henri Matisse became one of his most endearing and decorative art mediums, and this article will explore this in more detail.
Artist Abstract: Who Was Henri Matisse?
Henri Émile Benoît Matisse was born on December 31, 1869, in Le Cateau-Cambrésis in Northern France and died on November 3, 1954, in Nice, France. He was a multi-talented artist, and skilled in painting, sculpting, printmaking, and draughting. He initially studied law and then art in Paris at the Académie Julian and the École Nationale des Beaux-Arts. His art style involved expressive and colorful compositions that also depicted a variety of forms. He was one of the leading artists that started Fauvism. Several of his popular paintings include Woman with a Hat (1905), The Dessert: Harmony in Red (1908), and L'Atelier Rouge (1911).
Henry Matisse (1954); Brazilian National Archives, Public domain, via Wikimedia Commons
Cut-Outs by Henri Matisse in Context
Henri Matisse created over 100 paper cut-outs during his artistic oeuvre. These have been described as his "new medium". In the article below you will read more about why Matisse made these cut-outs, and what inspired and spurred him on. While Matisse's cut-outs consist of many pieces, this article will explore one specific paper cut-out, namely Two Masks (The Tomato) (Deux Masques [La Tomate]) (1947), through formal analysis in order to provide an example of his stylistic approach throughout his new medium.
However, it will also mention various other examples of paper cut-outs.
| | |
| --- | --- |
| Artist | Henri Émile Benoît Matisse |
| Date Painted | 1947 |
| Medium | Paper and gouache paint |
| Genre | Prints/Illustration |
| Period/Movement | Post-Impressionism |
| Dimensions (cm) | 47.7 x 51.8 |
| Series/Versions | Part of Matisse's paper cut-outs |
| Where Is It Housed? | Mr. and Mrs. Donald B. Marron, New York, United States |
| What It Is Worth | The price is uncertain. |
Contextual Analysis: A Brief Socio-Historical Overview
Cut-Outs by Henri Matisse spanned a wide range of quirky, lively, and inspired shapes and forms that all originated from the artist's expressive and imaginative mind. Matisse was a prolific painter and known as one of the founders of the Fauvist art movement during the early 1900s.
Collioure in August (1911) by Henri Matisse; Henri Matisse, Public domain, via Wikimedia Commons
Matisse was known for his love of color and for applying it in his artworks in expressive and innovative ways. Below is a discussion of the evolution of his cut-outs and how it has seemingly always been a part of his artistic oeuvre, but only later in his life, it developed into a signature medium.
The Evolution of Matisse's Cut-Outs
Henri Matisse's cut-outs have been widely associated with his later years, which were the result of his needing new ways to make art because he had abdominal cancer and surgery, and, after which, he spent a significant amount of time in a wheelchair or in bed.
Matisse could not create art in the ways he was used to and so his cut-outs soon became his most suitable and loved mode of expression. With the help of his assistants to paint and arrange his composition, he soon found his footing in what has been described as "drawing with scissors".
However, although Matisse found this new mode of making art, his cut-outs were not that new to him.
The artist reportedly utilized his cut-out technique during the 1919s as preparatory designs for a stage production by the composer Igor Stravinsky titled Song of the Nightingale (1921). From 1937 to 1938, Matisse also designed the decorations and costumes for the stage production Rouge et Noir (1939), which was choreographed by the ballet dancer Léonide Massine. The production was part of the company called Ballet Russe de Monte Carlo by Sergei Diaghilev.
Massine was reportedly inspired by the artworks that Matisse was working on, namely his three-piece mural titled The Dance (1932 to 1933), which was commissioned by Albert C. Barnes in 1930 for the Barnes Foundation where it is still housed. After Massine saw The Dance, he commissioned Matisse to create the designs, he is often quoted as saying how similar Matisse's designs were compared to what he planned for his production, which he envisioned as a "mural in motion".
Matisse created designs that ranged from the costumes, the stage curtain, and the background of the stage. He reportedly also pinned cut-outs onto the dancers, which included Alicia Markova, who was one of the leading dancers. A famous example of his designs and studies for the production is Two Dancers (1937), which depicts a black figure on the right with arms wide open and seemingly about to catch the more colorful white and yellow figure, who is leaping in the air.
The background is blue.
Jazz (1947)
Another important creation, known to set the foundation for Henri Matisse's cut-outs as a new mode of art for him, was his art publication titled Jazz (1947). This was a collection of 20 prints consisting of cut-out collages by Henri Matisse with his accompanying writing. The prints measured to around 41 by 66 centimeters (16 by 26 inches).
It was published by Stratis Eleftheriades, who was mostly known by the pseudonym of Tériade. He was the publisher of the French art magazine titled Verve (1937 to 1960), in which Matisse's cut-outs were published, including other prominent writers and artists of the time like Ernst Hemingway, James Joyce, Pablo Picasso, Marc Chagall, and others.
There were reportedly several overarching themes in Jazz, namely, the circus, French music halls, Matisse's travels and memories, legends and mythologies, as well as the ideas relating to World War II. With the book's playful musical quality, Matisse was reportedly content with its title, Jazz, which was chosen by the publisher.
While there are 20 plates in Jazz, below are a few examples, namely, The Clown (Le Clown) (1947), Circus (Le Cirque) (1947), The Nightmare of the White Elephant (Le Cauchemar d L'Éléphant Blanc) (1947), Horse, Rider, and Clown (Le Cheval, L'Écuyѐre et le Clown) (1947), The Wolf (Le Loup) (1947), The Swimmer in the Tank (La Nageuse Dans L'Aquarium) (1947), Forms (Formes) (1947), and Icarus (Icare) (1947).
The illustrated cut-out collages by Henri Matisse from Jazz all appear colorful, decorative, and dynamic in their subject matter.
Some are abstract compositions and others are figurative, for example, the more famous Icarus, which depicts a black figure with his arms in an open position. He has a red dot to the left (our right) of his chest and the background is blue with six yellow star-like shapes around the figure. Matisse depicted the mythological figure of Icarus, as per the title of the cut-out, who was known in the Greek myth to have flown too close to the sun, causing his makeshift wings glued with beeswax to melt, and he plummeted to his death. Matisse's figure appears as if he is in flight.
The Vence Chapel
In 1943, Matisse moved to Vence in the South of France. He began designing decorations for the chapel there, which is also known as the Matisse Chapel. He designed the decorations for the chapel, including the double stained-glass windows that are green, blue, with yellow floral shapes. Reportedly, Matisse also designed the priest's garments.
The Swimming Pool (1952)
The Swimming Pool (1952) became another iconic cut-out by Henri Matisse. Described as a "room size frieze", it spanned around the artist's dining room wall and was inspired after Matisse and Lydia Delectorskaya, who was his assistant at the time, visited a pool, but due to the heat Matisse decided to go back home and create a pool under the comfort of his own roof. The Swimming Pool was created from white sheets with various blue-painted swimmers and aquatic animals pinned onto it.
The Museum of Modern Art in New York acquired the frieze in 1975.
Formal Analysis: A Brief Compositional Overview
The formal analysis below will explore Henri Matisse's cut-out titled Two Masks (The Tomato) (Deux Masques [La Tomate]) (1947) in more detail. It will look at the subject matter and the stylistic approach in terms of the art elements, highlighting the artist's approach, including providing just one example of the types of forms he created in his cut-out medium.
Subject Matter: Visual Description
Two Masks (The Tomato) (Deux Masques [La Tomate]) depicts a large white abstracted shape in the center of the composition. This is undoubtedly the tomato that is evident in the cut-out's title. It has five finger-like projections, or tendrils, with elongated, vertical, red shapes in each. A horizontally oriented curved shape is along the top part of the white shape, could this be the top of the tomato? The white finger-like shapes are positioned downwards, in the direction of the lower portion of the composition. In between the gaps of each is another purple-blue shape, of which there are four.
Two other purple-blue square shapes are above the formation at a tilted angle, appearing almost diamond-like.
This above formation is on top of a reddish-slanted rectangle, which appears to have been stuck onto a larger piece of paper painted entirely green, providing the background for the composition. Additionally, there are six white smaller, almost plant or flower-like shapes with tendrils or projections, surrounding the primary central object. These flower-like shapes create a sense of dynamism and movement in the composition, notably through their repetition around the central object.
Color
For Two Masks (The Tomato) (Deux Masques [La Tomate]) Henri Matisse stuck to five colors, of which the green dominates the background, seconded by the pinkish-red background for the tomato-like shape in the center. The more neutral whites stand out amidst the more solid areas of color and the analogous purple-blue and reds appear visually appealing to look at.
There are no excessively bright areas of color.
Texture
There is a sense of tactile texture in Two Masks (The Tomato) (Deux Masques [La Tomate]), evident by the visible vertical direction of the paintbrush for the green background. There is also a sense of implied texture created by the shapes, which appear seemingly smooth and soft as if based on nature, which was a characteristic of Matisse's choice of subject matter for his cut-outs.
Shape and Form
There is a combination of organic, irregular, and geometric shapes in Two Masks (The Tomato) (Deux Masques [La Tomate]), which also conveys Matisse's choice of subject; he was reportedly inspired by nature.
There is minimal shading or highlights to suggest a three-dimensional form, but this could be implied in the manner Matisse positioned his other colors, notably the red and purple-blue shapes, which suggest a sense of an abstracted form.
Line
There are varieties of lines in Two Masks (The Tomato) (Deux Masques [La Tomate]), most of which are created by the shapes of the cut-outs. There are curved and rounded lines contrasted by straight diagonal lines.
Space
The space in Two Masks (The Tomato) (Deux Masques [La Tomate]) appears somewhat flat, which is expected as Matisse cut and pasted his shapes onto paper. However, there is a sense of depth through Matisse's utilization of the overlapping of his shapes. Furthermore, the abstracted subject matter seemingly creates an interplay of positive and negative space.
The white projections could be viewed as something else and the red space between them could possibly be the body of the subject, and vice versa.
No Cutting Back on Imagination
In 2014, the Museum of Modern Art in New York held an exhibition in honor of Henri Matisse's extensive paper cut-out collection. It was titled Henri Matisse: The Cut-Outs and displayed a wide selection of Matisse's artworks and the intimate inner working of the artist's process of making them, but also their deeper meaning and expression.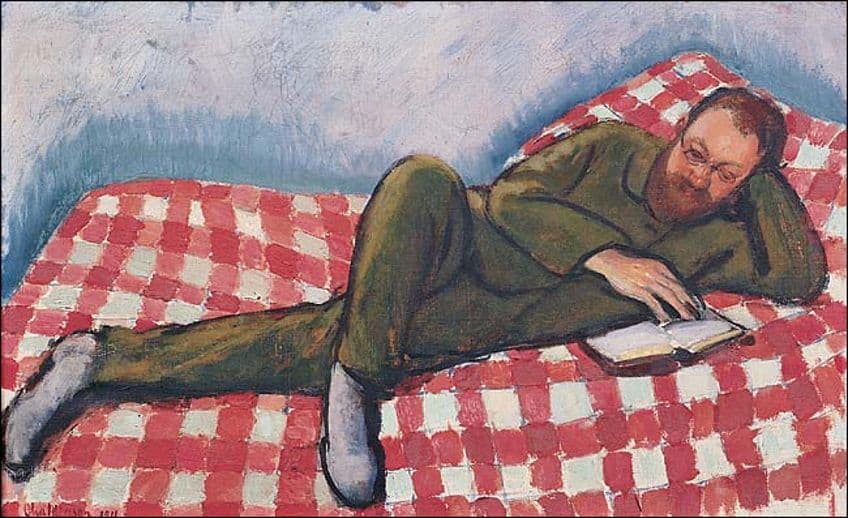 Henri Matisse (1911) by Olga Markowa Meerson; Olga Markowa Meerson (1880-1929), Public domain, via Wikimedia Commons
While only a brief delve into the diverse collection of cut-outs by Henri Matisse, this article highlighted the artist's paper cuts journey. It showed that he always utilized the cut-out medium, from preparatory designs to intended artworks. One thing is for sure; Matisse never cut back on his imagination.
Frequently Asked Questions
What Artist Created the Paper Cut-Outs?
The French Fauvist, Henri Matisse, created his famous so-called new medium, which consisted of paper and gouache cut-outs. There are over 100 paper cut-outs produced by Matisse from around 1919 to between 1936 and 1954.
Why Did Henri Matisse Create the Paper Cut-Outs?
Henri Matisse's paper and gouache cut-outs served as preparatory artworks through which he reportedly processed his ideas and explored expressions of color and form. It was also a new medium that made it easier for Matisse to create art due to his health challenges.
Where Are Henri Matisse's Paper Cut-Outs?
Henri Matisse's paper cuts, or paper cut-outs, are distributed in a variety of collections, ranging from museums to private collections. The Museum of Modern Art in New York exhibited a large range of these cut-out collages by Henri Matisse in 2014 titled Henri Matisse: The Cut-Outs, which showcased the artistic range of his medium.
Isabella studied at the University of Cape Town in South Africa and graduated with a Bachelor of Arts majoring in English Literature & Language and Psychology. Throughout her undergraduate years, she took Art History as an additional subject and absolutely loved it. Building on from her art history knowledge that began in high school, art has always been a particular area of fascination for her. From learning about artworks previously unknown to her, or sharpening her existing understanding of specific works, the ability to continue learning within this interesting sphere excites her greatly.
Her focal points of interest in art history encompass profiling specific artists and art movements, as it is these areas where she is able to really dig deep into the rich narrative of the art world. Additionally, she particularly enjoys exploring the different artistic styles of the 20th century, as well as the important impact that female artists have had on the development of art history.
Learn more about Isabella Meyer and the Art in Context Team.
Cite this Article