Do you need some inspiration to produce interesting artwork? Grab a roll of tape! You can experiment with tape to design compelling tape art. Try tape painting to add highlights, depth, and effects to your artwork. Anything from two-dimensional to three-dimensional paintings or sculptures is possible. In this article, we will discuss the fascinating art form of tape art, what it is, who is doing it, how to do it yourself, and so much more! Stick with us to learn how to incorporate this exciting art form.
What Is Tape Art?
So, what exactly is tape art? Put simply, tape art is exactly that, art made with tape. It is a piece of art created with any form of adhesive tape such as packing tape, duct tape, masking tape, electrical tape, and many other types of tape.
There are many creative ways to start tape painting. With tape, you can master the "stained glass" effect by applying tape to either plastic or glass, as this creates a magnificent piece of art when it is lit from behind.
Tape art can be stuck to a surface to produce an image or to create an outline, or you can try abstract painting with tape to create a three-dimensional sculpture. Paintings with tape are so versatile so get creative!
Impala Antelopes (2014) by TAPE OVER at the Fuchsbau Festival in Germany; Whatabouttruth, CC BY-SA 4.0, via Wikimedia Commons
The true defining factor that makes tape art different from traditional sculptures and paintings is that you can apply tape art anywhere. Exterior installations work just as well as interior installations. This can be anywhere from the doors, the floors, or the ceilings of galleries.
There are quite a few benefits to tape painting that we thought were worth mentioning. Firstly, paintings with tape can be installed quickly and efficiently without making excessive noise, this makes it suitable for any temporary or small urban art installations.
Not only that but unlike art made with spray paint, tape art does not leave a permanent mark and can easily be removed without producing any toxic odors. These tape painting installations do not require covering or masking. The tape itself is fairly easy to handle and it can be applied to a real variety of surfaces.
Surfaces Where You Can Apply Tape Art
Stone
Wood
Asphalt
Sandwich panels
Fabric
Glass
Aluminum
Plastic
Acrylic glass
Walls
The Type of Materials to Use for Tape Art
In principle, any materials can be used for tape art since it is a free art form. That being said, here are a few things to keep in mind when looking for suitable materials to use. Tissue tape is a popular choice for tape painting.
Materials that have a smooth surface are increasingly being chosen for filigree work for interiors. There are now special artist tapes, such as artist tape for canvas, from different brands that have been made with different widths in a variety of eye-catching and fashionable colors.
Installation Glow (2019) by Tape That artists Adrian Dittert and Cedric Goussanou, located in Tapei as part of the That's Tape Art exhibition; Tape That, CC BY-SA 4.0, via Wikimedia Commons
The different varieties available can be used on different surfaces. The general rule is to ensure that the surface you will be sticking your tape to is free of any dust and grease to make sure there is good adhesion.
The History of Tape Art
This art form was developed in the 1960s from urban art. It came about as an alternative to the largely popular spray-painting movement that dominated the urban art scene. There have been accounts that trace the origins of tape art by the Tape Art Crew back to Providence, Rhode Island in the United States, in the late 1980s where tape art was left on courtyards, sidewalks, abandoned buildings, and public spaces.
The art illustrated crash scenes that were rendered in the style of police silhouette chalk-outlines.
Abstract tape art wave (2014) by TAPE OVER in Trouville, France; Whatabouttruth, CC BY-SA 4.0, via Wikimedia Commons
These tape paintings were usually spread across a few surfaces and frequently depicted a succession of pieces that narrated over several days. After the work was completed, the art would be removed within 24 hours in order to make way for the new tape art that would appear before sunrise.
Tape art continues to be a collaborative art form with life-sized depictions to this day, where the intention to remove the art after completion still, for the most part, remains.
How Tape Art Has Developed Over the Years
Although graffiti art has developed into an art form that is highly regarded, this contemporary art movement is still considered one of the most radical. As common as it is in a lot of countries, in most of them it is still considered a form of vandalism and is essentially illegal and punishable by the law.
This brings us to one of the reasons tape art has become so popular– it is legal! Tape art has advanced over the years into a worthy opponent of the graffiti culture.
Over the past ten years, tape artists and their work have been gaining a great amount of media attention. The media's growing fascination with tape art led to an influx of individuals who became increasingly interested in using tape art in their private interiors. What started as a subversive art form soon evolved into an accessible one.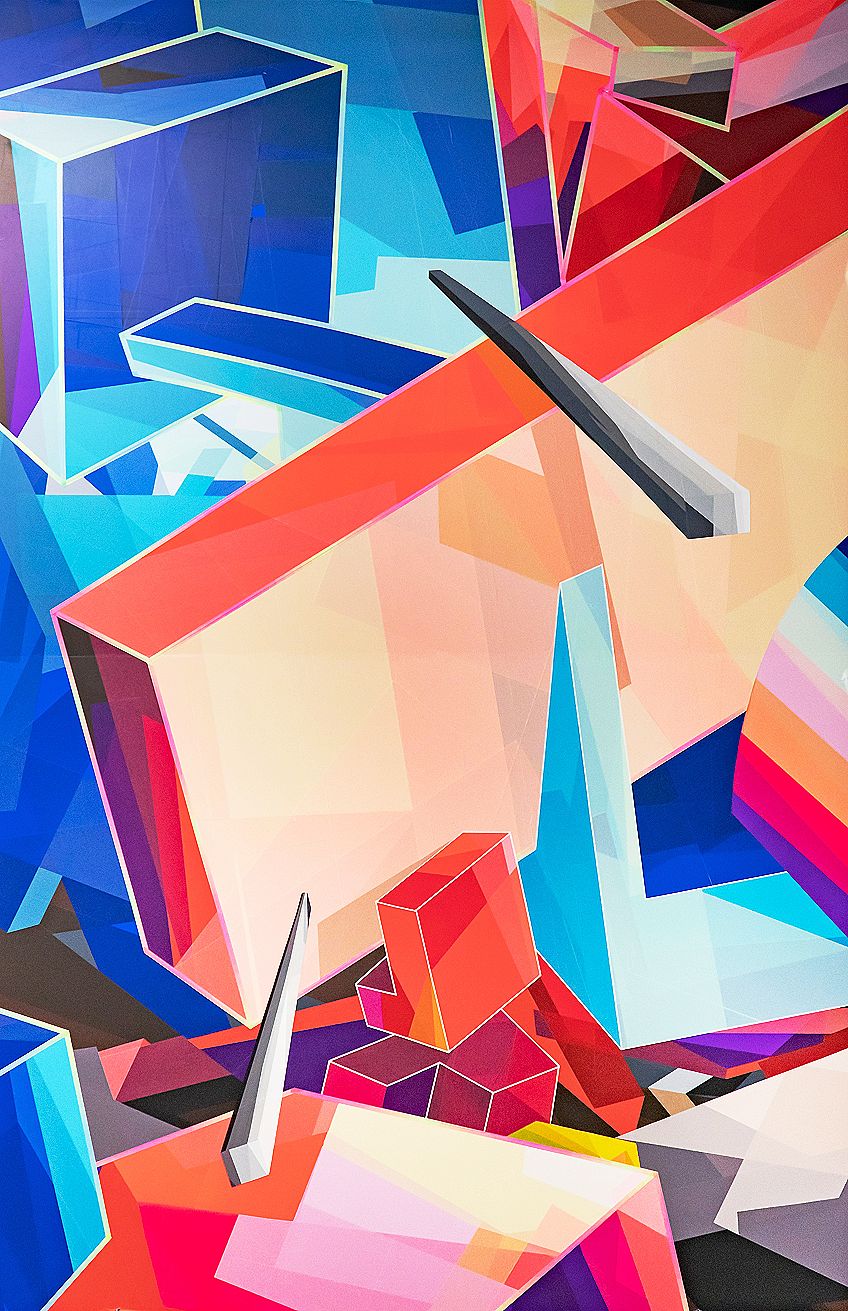 Washi tape on PVC plate (2020) by Tape That; Tape That, CC BY-SA 4.0, via Wikimedia Commons
Initially, individuals were using the available materials that existed to create art in urban spaces, whereas now there have been special artist tapes that have been specifically developed for personal use such as artist tape for canvas.
What was once an art form established for public urban spaces, has now developed into an art form that has become a popular choice for private interior spaces. Due to its user-friendly nature, tape art is no longer just for professional artists. It has become a favorite for crafting, DIY projects, and interior decorations.
Although the history behind tape art is not necessarily expansive, given that it is a relatively new form of art, there is an ever-expanding catalog of its application. Tape art has been produced for all sorts of purposes, from protest art and performance pieces to what can only be described as tomfoolery, from the beautification of public spaces to the promotional objectives of advertisements.
Tape art facade image (2018) by Tape That, made for Tape Art Around the World in Guatemala; Tape That, CC BY-SA 4.0, via Wikimedia Commons
There are paintings with tape that still take up space in urban areas; then there are pieces of tape art that sit on the walls of galleries or stand as a three-dimensional sculpture or exist as a canvas painting with tape; masking tape art has gone on to become collectibles; paintings with tape take place at architectural installation; pictorial illusions from layered packing tape have been presented as a form of optical street art. The use of the simple medium of adhesive tape has ricocheted all over the world, producing all kinds of works.
There have been and continue to be interdisciplinary collaborations with various artists from the urban graffiti scene. Not to mention the collaboration of tape artists and digital art forms. In fact, the fusion between the two is now referred to as tape mapping and it is the blending of tape art with video mapping that brilliantly animates the tape art with visual effects.
With the variety of tapes that are being produced, you can now find tapes that differ in structure, color, and form. The choices range from colorful to transparent, from matt to shiny, from wide to slim. The vast selection of tapes that are available allows you to accomplish different ideas. Tape art encourages an art movement that is entirely experimental. Today we find that tape art is most popular in cities such as Berlin, where there we constantly find special art projects popping up that continue to attract attention.
Famous Tape Art Artists and Famous Tape Art Artworks
This relatively newer art form of abstract painting with tape has elevated home décor and DIY craft projects, but it has also produced some notable artists that have created masterpieces using tape. These artistic feats are not only limited to scaled-down models, pictures, or wall illustrations.
Max Zorn
There are a few famous names to pay attention to in the world of tape art. This includes the Dutch artist, Max Zorn. Zorn has been active since 2011 in creating tape art, mostly street art and urban art. He has crafted his own style by using brown packing tape as his medium of choice, then using a scalpel to cut the pieces of tape on the acrylic glass when creating portraits that are lit from behind.
Slava Ostap
A well-known tape art piece in Berlin is the Portable Tornado by Slava Ostap, which was made in 2014. This three-dimensional sculpture was made from over 450 rolls of packing tape and duct tape. The grand structure has quite the presence, it measures out to be five meters tall and stretches to two meters at its widest point near the ceiling.
El Bocho
Another notable piece of artwork comes from the artist El Bocho who is from Berlin. As part of the Urban Affairs Extended exhibition in 2009, he produced a tape art piece on the Stadtbad Wedding wall, using adhesive strips exclusively. El Bocho's piece of work caused quite the sensation.
Tape Over
The international tape art crew Tape Over was established in 2010 in Berlin. They have created tape art pieces in many countries across the globe which include elements of urban art and street art. Since tape art is still a relatively new art form, Tape Over continues to push the limits and shape the tape art scene.
With plenty of noteworthy installations that cover many surfaces across the world, such as their tape art mural Big Fish at Upfest in Bristol, United Kingdom, Tape Over has done well in introducing the art world to tape works.
Other Notable Tape Artists
Other notable tape artists include Pauline Filioux and Mark Khaisman. Not to mention, the artist Monika Gryzmala from Poland showcases her three-dimensional art pieces around the world in renowned art museums and galleries. Another famous tape painting is Impalas in the Wild by LiaMia and ROB, which was installed at the Fuchsbau Festival in Hannover, Germany.
Famous Tape Art Exhibitions
In 2015, the Heyne art factory, based in Offenbach am Main, opened Europe's first group exhibition where the works of seven tape artists from Europe and two collectives from Berlin were exhibited. The international Tape Art Convention, organized in 2016 by the Neurotitan gallery in Berlin, was the first of its kind.
Prominent international artists such as Max Zorn, Slava Ostap, Benjamin Murphy, and Buff Diss participated alongside the German artist collective known as Tape That. There are a number of international artists who have made substantial contributions to the tape art movement with their artistic feats.
How to Make Your Own Tape Art
There are so many amazing projects and ideas you can tackle with tape art, the only thing that limits you is your expression and creativity. There are a huge variety of patterns, functionalities, and colors at your disposal.
You can try anything from masking tape art ideas to canvas painting with tape!
Berlin Starry Night (2014) by tape artist Slava Ostap, made out of colored duct tape; Slava Ostap, CC BY-SA 4.0, via Wikimedia Commons
Unsure of what materials you will need for your tape art? Well, it depends on your tape of choice, this ranges from duct tape, masking tape, packing tape, or other products. We will get you started with the basics in this tape art tutorial!
Products You Will Need
Tape (in this example we will be using duct tape)
A surface for your art (can be cardboard or canvas)
Computer and printer (if you want to use a picture)
Ruler
Scissors
Cutting knife
Cardboard
What to Look Out for in Duct Tape
We know that there are quite a few brands of duct tape available, so it is important to look out for tape that is flexible, has a mid-level strength, and rips with ease. With whichever brand of tape you choose, just make sure that when you rip it you get a straight and clean cut.
Tape art mural (2017) by Tape That, made for the Transurban Festival in Cologne; Tape That Photo: Laurenz H. Bostedt, CC BY-SA 4.0, via Wikimedia Commons
How to Make Paintings with Tape
Assemble all the necessary tools: duct tape, cutting knife, ruler, cardboard, scissors, the picture you will be printing, and your printer.
Find the picture you want to use for the tape painting. This can be anything from a beautiful landscape photo to your favorite celebrity, an animal, or anything you can think of.
Use a paint software program to quantize the picture and turn it into different colors. There are several useful apps that are available on your phone that should have this function, such as Photoshop or any other free paint software. Make sure to print two or three different variations of color for referencing, cutting, and separation.
Stick your base color (the white duct tape) on a piece of cardboard. Start sticking the strips of tape in the middle and work your way out to ensure that the strips are even on either side.
Use your scissors to trim the edges.
Repeat this with your next color of tape but place the tape at a 90° angle to the previous layer. This will help with separating the layers when you strip them later.
Room installation (2017) by Tape That made out of fabric adhesive tape in red and blue, located in Berlin; Tape That Photo: Laurenz H. Bostedt, CC BY-SA 4.0, via Wikimedia Commons
Stick your printed picture (which will act as your template) to the cardboard by first lining it up and fixing it to the sides of the cardboard with tape.
Now it is time to start cutting! Use your knife and follow the template. You will need to apply a bit of pressure, so be careful! Follow the lines of your template carefully and remember, the more detail there is, the better your result will be.
Remove what is left from your template. This will leave you with one color of tape with many cuts in it.
Now it is time to start peeling! Use your spare picture as a reference so you are aware of which pieces to peel off. Be patient, this part can be quite tricky. A useful tip is to peel the duct tape at a 45° angle so that it does not pull off the layer underneath at the same time. Keep your knife by your side in case there are pieces that have not been cut properly and cut them as you go. Just remember not to peel too many of the layers!
Voilà! There you have it, your finished tape painting! We think you should frame your beautiful piece and hang it somewhere. Or it could be the cover of a card or a gift. It is your work, and you should be proud!
Other Creative Ideas for Tape Art
Tape is the perfect medium for creativity, and it works for every member of the family! Even the children can share in the fun! You have a wide selection available too, you can use clear tape, colorful tape, and paper tape for various masking tape art ideas.
Incorporating tape art as a creative activity can be great fun, but did you know it can also encourage skill-building in young children? How amazing is that! By simply adding tape painting to your child's routine, you can improve their fine motor skills, creative thinking, compositional choices, and more!
You are likely to find colorful paper tape in the art supply section of your local craft stores or office supply stores. This type of tape has more body to it, making it heavier in comparison to other tapes which will make it easier for children to manipulate. Although the tape is useful for sticking one thing to another, you can use it as a form of decoration or for masking tape art ideas!
Trinity (2020) by Tape That, made out of washi tape, fabric adhesive tape, and spray paint on a PVC plate; Tape That, CC BY-SA 4.0, via Wikimedia Commons
You can use the tape and follow a specific pattern or design. It might be best to pre-cut a few pieces of tape for your little ones to avoid any mishaps with the scissors. Let the kids have free reign and design to their heart's content because remember it is the process itself that is beneficial for them and not necessarily the end product.
You do not have to leave tape painting to the artists! Since the material is relatively easy to handle, it makes the perfect medium for personal use. You can get creative with different types of tape on different types of surfaces.
Due to adhesive tape's flexibility and versatility, it encourages you to experiment! There are many creative pursuits you can tackle with tape art and masking tape art ideas, such as making your own phone case or fashioning a wallet from adhesive tape.
15 Creative Ideas for Tape Art
Use a scrapbook to create an abstract painting with tape;
Design a painting for your wall using artist tape for canvas;
Design your own purse or wallet;
Make your own flag with art tape;
Create a picture frame with art tape;
Create a canvas painting with tape;
Create three-dimensional flowers with art tape;
Decorate your luggage with art tape;
Tape art image of Girl with a Pearl Earring made by Max Zorn (2011), using brown packing tape on acrylic glass; Max Zorn, CC BY-SA 3.0, via Wikimedia Commons
Create office containers using duct tape;
Create a party banner with art tape;
Make your own fashionable bowtie using duct tape;
Make a tablecloth using art tape;
Make your own superhero mask with tape;
Make your own no-sew apron with duct tape;
Decorate an old pair of shoes to add some flair using tape.
The art you can make from adhesive tape is more versatile than you may have initially expected. We hope we have provided you with enough inspiration to pick up your own roll of tape! You should experiment, there is no single approach to creating tape art. Anything from two-dimensional paintings with tape to three-dimensional sculptures is possible. There is so much to explore when it comes to the world of tape art, and it is an art form that is constantly being reinvented. Next time you are strolling through your city, keep your eyes peeled, you might be lucky enough to find special tape art projects. If you enjoyed this article, stick around. We have so many articles about various art topics that are worth checking out!
Frequently Asked Questions
Why Is Tape a Good Art Medium?
Adhesive tape is such a versatile medium, its ability to stick to almost any surface leaves you with practically no restrictions when implementing and applying the art. It can be applied to wood, asphalt, sandwich panels, glass, fabric, aluminum, plastic, acrylic glass, and most wall surfaces. This gives you ample room to experiment because the only thing you really need is a clean surface! Abstract painting with tape can be easily scaled to different sizes and even adapted to work on rounded surfaces. Therefore, you can just as easily create small artworks indoors as you can with large outdoor pieces.
How Long Does Tape Art Last?
If the abstract painting with tape is protected from the elements and kept indoors, shielded from the wind, the sun, and water, then it should last a very long time. However, the longevity of tape art outdoors is entirely dependent on the surface it is applied to and the type of tape you use. A tape painting can last anywhere between one to over five years. If necessary, you can refresh the paintings with tape or you can completely erase them, as the adhesive tape is easily replaceable and removable.
What Type of Adhesive Tape Is Best for Tape Art?
Your choice of adhesive tape will depend on a few aspects. It will be dependent on the environment you wish to display the tape art in, the conditions your tape painting will be exposed to, the kind of artwork you intend to make, and the overall outcome you are looking for; these are all factors to take into consideration when choosing your tape. Tissue tape is one of the popular choices for tape art, as well as duct tape and packing tape. Masking tape art is widely popular too, as well as canvas painting with tape. There are now special artist tapes from different brands, such as artist tape for canvas, that have been made with different widths and textures, in a variety of eye-catching and fashionable colors.
In 2005, Charlene completed her Wellness Diplomas in Therapeutic Aromatherapy and Reflexology from the International School of Reflexology and Meridian Therapy. She worked for a company offering corporate wellness programs for a couple of years, before opening up her own therapy practice. It was in 2015 that a friend, who was a digital marketer, asked her to join her company as a content creator, and this is where she found her excitement for writing.
Since joining the content writing world, she has gained a lot of experience over the years writing on a diverse selection of topics, from beauty, health, wellness, travel, and more. Due to various circumstances, she had to close her therapy practice and is now a full-time freelance writer. Being a creative person, she could not pass up the opportunity to contribute to the Art in Context team, where is was in her element, writing about a variety of art and craft topics. Contributing articles for over three years now, her knowledge in this area has grown, and she has gotten to explore her creativity and improve her research and writing skills.
Learn more about the Art in Context Team.